Every business needs active, well-planned strategies to stay ahead of its rivals. Incorporating the latest technological developments can help improve your marketing efficiency when dealing with business contacts. Identifying the most promising technological trends for marketing isn't always easy. Here are seven technological advancements that increasingly impact how businesses go to market.
Artificial Intelligence and Chatbots
In many respects, AI still seems to belong to the realms of science fiction, yet it's steadily making progress in marketing. Small businesses, plagued by shortages of trained personnel and time, are expecting AI to compensate for their deficiencies. According to the report, State of Marketing by Drift, 42% of consumers are unaware of being attended to by chatbots. This advanced software can emulate human conversation and it's reassuringly lifelike. It's ideal for providing the answers to the common questions posed by your business contacts. It can be on duty 24/7, enabling your business to remain constantly active.
Impact of Voice Searches
Smart automation technology is growing fast in the retail sector and could soon make a deep impression in B2B marketing. A recent survey by ThinkWithGoogle.com has shown that voice search is used by at least 27% of the world's consumers. 46% of these are conducting daily searches. Voice search is a convenient method of finding out all the information you need. Using it in your business marketing strategies could provide fast access for your future contacts.
Online Content
Creating informative blog posts is already an essential marketing tool for every business regardless of size. In the competitive world of B2B marketing, it can be even more effective.
OptinMonster has compiled statistics that reveal B2B marketers with effective blogs receive 67% more conversions than rivals who don't blog. 72% acknowledge blogging as the power behind their SEO campaigns. However, engaging, original content is an absolute priority. It's the only way to increase your brand's reputation as a trustworthy authority. According to Buffer.com, your SEO strategy is most effective when a blog post is around 1,600 words in length.
Micro-Influencers are Gaining Ground
Statistics by InfluencerMarketing.com revealed that during 2021, influencers generated $13.8 billion in sales. 2022 is expected to see their input grow to $16.4 billion. Can your business afford to neglect this aspect of gaining more clients and customers? Fortunately, any business can join in this growing technological trend as it's not the celebrities that are making the largest impact. Relatively unknown micro-influencers have been causing headlines on social media platforms such as TikTok. You no longer need to pay for celebrity endorsement. You simply need a great service or product and an engaging personality to get your message across.
Prioritize Messaging Apps
Businesses have usually relied on professional platforms such as Linkedin for making regular contacts and sales. However, nothing stands still online. Messaging apps have begun to be big news, They work in a similar format to an online chat room. You can make fast progress by posting a message and receiving an instant reply. Data collected by BusinessInsider.com has shown there are four main messaging apps; Facebook, Messenger, WhatsApp, Viber and WeChat. Most significantly, they have a greater number of users than their four big rivals on the traditional social media platforms of Twitter, Facebook, Linkedin and Instagram. In a B2B scenario, messaging apps appear to be an unstoppable technological trend.
Be Smart with Personalized Content
Marketers have relied for years on tailoring adverts to the search activity of online visitors. Technological advancements are now stepping beyond these confines by using personalized content. Powerful software as a service (SaaS) monitors your clients' searches. It is then capable of presenting targeted information such as detailed blog posts instead of waiting for your visitors to search for them. Smart SaaS is easy to incorporate into your management system. As a marketing tool, it's a valuable business asset, helping to increase visitor interest by personalizing your products or services.
Making the Most of Mobile Usage
The mobile revolution continues unabated online and has now been making great progress in B2B marketing. According to ThinkwithGoogle, B2B businesses have increased mobile usage in recent years. It's a convenient on-the-go tool that's instantly accessible. Google's statistics continue to note that 63% use their smartphones to purchase products that have been specifically tailored to their recent searches. Capturing your customers' attention is easier if your site has a mobile-friendly format.
Technological trends are vital in B2B marketing. They are most effective when they complement each other. Integrating smart, personalized content, AI and a mobile-friendly platform is an ideal way to use technology efficiently. Messaging apps, micro- influencers, high-quality content and voice searches can combine to become a powerful force in your marketing campaigns. These technological trends can help you effectively improve your marketing strategies to outperform your competitors.
Get our newsletter and digital focus reports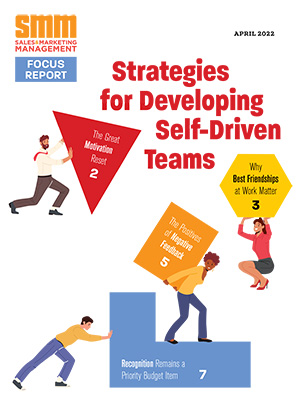 Stay current on learning and development trends, best practices, research, new products and technologies, case studies and much more.