Personalized customer experiences aren't just for marketers anymore. As B2C and B2B customers keep raising their expectations for custom-tailored interactions with brands and vendors, it's time for sales teams to develop experiential customer acquisition programs that increase engagement and conversion. Here are the tools and tactics we see organizations adopting to create more memorable, compelling sales experiences.
Sales Data Analysis
Because more sales experiences are happening remotely and online, there's more sales data than ever that organizations can use to refine and optimize their sales strategies. For example, McKinsey suggests that companies draw on sales and marketing behavioral data as well as voice of customer data to "find patterns in completed deals and to generate insights on which behaviors can help win deals and boost satisfaction scores."
Effective data analysis depends on unified data across marketing, sales and possibly product development that's consistently formatted for easy analysis. Analytics teams can pull sales data from the organization's CRM, and there are a number of KPIs that organizations can track, including win rate, average time to close, ratio of sales to new versus existing customers, and success by lead generation format. With ongoing data analysis, organizations can improve their existing sales strategies and develop new ones.
Hyperpersonalization
One way to leverage unified data and AI for a more immersive and compelling sales experience is hyper personalization. By drawing on data for individual customers and buyers, brands and organizations can custom tailor unique experiences and guide them through their specific buying journey in a way that strengthens their bond with the brand, gives them the exact experience and information they are looking for, and doesn't waste their time with off-message or extraneous sales information.
Dynamic pricing is one example of hyperpersonalization in sales. Another example, from Deloitte, is drawing on online and profile data for airline customers to create omnichannel, continuously updated personalization across customer service interactions, airport lounge experiences, service recommendations, and other touchpoints.
AI-based Selling
Data analysis is critical for B2B sales as well as B2C. Although many B2B organizations have made great progress in personalized marketing and digital experiences since the start of the pandemic, overall, B2B still lags behind BTC innovations. That has implications for B2B sales programs' success. A recent report by PYMNTS and American Express found that among millennial B2B buyers, 74% have switched to vendors that offer more consumer-style buying experiences.
However, there are indications that the B2B sales transformation is accelerating. A new Gartner Sales report finds that three-fourths of B2B sales organizations will use AI-based selling by 2025 "to look into data and recommend the next best actions."
Event Marketing and Sales
Even with so many digital and analytical tools available for creating great sales experiences, face-to-face sales and marketing events are still important for building trust among customers. That's especially true for complex and costly B2B sales as well as for B2C sales that have a strong physical component to the decision- making process, like buying a new car.
Of course, digital tools can help you plan and execute a more successful sales event than you could run otherwise. That starts with identifying your event goals and the customer segment — or even the specific customers — most aligned with those goals. With a clear goal and audience, it's time to structure the event format in a way that appeals to the target audience and furthers the sales goals.
For example, a B2B company selling a new, niche SaaS solution might hold an online event for their hottest prospects to walk through the solution and answer customers' questions in real time. A luxury carmaker, on the other hand, might combine on-site digital learning experiences about their newest model with test drives at a special showroom event. And a company that's just getting its first product to market might combine VR experiences with face-to-face conversations at trade shows. Ideally, customer data from each event would feed into the sales analytics database.
Peer to Peer Programs
Customers trust peer recommendations. That's why online reviews are so popular and so important. Even among B2B decision makers, 45% cite user reviews as one of their top resources for evaluating possible purchases, which means every organization can benefit from engaging with their review profiles on third-party sites and responding to reviews.
Of course, peer to peer sales programs go beyond leveraging customer reviews and written or video testimonials. They can also include social media and on-site user communities, where existing customers and prospects can share feedback, suggestions and examples of how to use the product or service. These community discussions also provide voice of the customer data for sales, marketing and product teams to analyze and use.
Sales Portals
As your sales organization adds more experiences and more content and data to support them, you'll need a single place where your team can find the right resources for customers. A well-organized sales portal saves teams time looking through different apps and systems to find the information they need to customize the customer experience.
Individually, each of these tools can improve the sales process. Together, they can build an extremely efficient and compelling suite of sales experiences that generates more data for continuous improvement, ultimately leaving an impression on customers that boosts recommendations and sales performance.
Get our newsletter and digital focus reports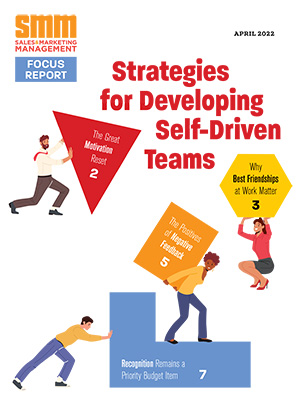 Stay current on learning and development trends, best practices, research, new products and technologies, case studies and much more.