Home
Break Out the Lanyards
Break Out the Lanyards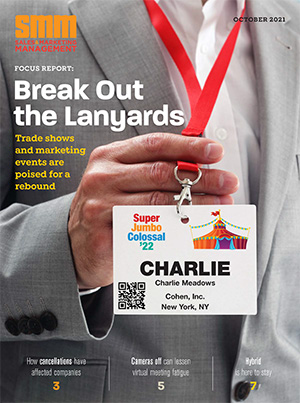 October 2021
View Downloadable Edition
A return to meeting in person may be slow, but aspects of live events simply can't be duplicated
When meeting in person isn't possible, a telephone call may be the next best thing to being there.
Hybrid is the new black. What does that mean for show sponsors and attendees?
John Chen, author of "Engaging Virtual Meetings," uses "ENGAGE" as a mnemonic means of remembering six steps to defeat virtual meetings fatigue.
Like it or not, some aspect of virtual is here to stay for trade shows and marketing events. There are ways to help make virtual work for you.
B2B sales and marketing professionals share their thoughts about the future of trade shows and marketing events.