Home
Cracking the Sales Compensation Code
Cracking the Sales Compensation Code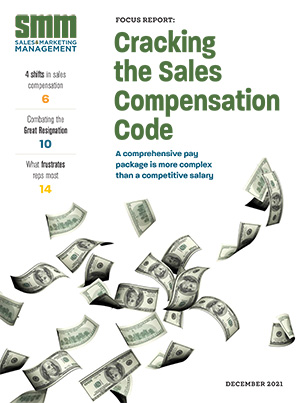 December 2021
View Downloadable Edition
To have success hiring and holding on to top sales talent, it's imperative that companies understand what matters most to sales professionals.
Companies with low turnover rates are led by executives who understand that money alone is no longer an effective recruitment and retention tool.
From team-based sales to varying prospect conversations based on the data available and the unique customer needs, selling is constantly experiencing significant shifts. Blindly applying a "what worked last year will work this year" approach to compensation is a trap that needs to be avoided.
Many salespeople have the same characteristics that are leading to a rush of people starting their own businesses. In the hunt for top sales talent, companies have to offer something better than current and future employees can create for themselves.
A recruitment and staffing veteran shares five ways to hire and keep top talent during a time when that is proving more challenging than ever before.