Driving Performance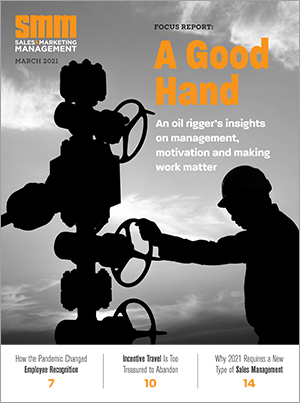 March 2021
View Downloadable Edition
Steps leaders can take to make employees feel supported and safe ahead of an eventual return to the workplace.
According to Gallup, worker engagement ping-ponged in 2020. It's important for managers to be aware of some of the facts about worker engagement.
The pandemic made existing sales productivity challenges more pronounced and created new ones. As leaders, we need to find ways to shift our operating philosophy for this new age of sales.
Some are predicting a mass job search exodus once the pandemic has passed. Here are three important changes you can make to align workers around a common purpose and increase your culture, flexibility and openness in the workplace.
While it has widely been predicted that business travel will never return to pre-COVID levels, incentive travel — the concept of bringing groups of high-performers together to celebrate successes — could be a motivation tool that's too effective to abandon.
Like everything else in the pandemic year, workplace recognition and managing teams for improved performance have been disrupted. In a virtual world, it's harder to gauge team members' needs, celebrate successes and make employees feel valued.
Employees are motivated when their work has relevance. Business adviser and author Lisa Lai offers these tips for how managers can make work more meaningful for those on their team.
Employees are more than a box on an organizational chart. Because of the challenges of the pandemic, they've become partners in the future of your business. They need to be treated that way.
If your one-on-one reviews leave employees rolling their eyes — managers often are the last ones to discover this — here are five tips from HR service provider...
A full recovery is expected at some point, but the look of group travel may be forever changed