Money will likely always be the top answer when workers are asked what motivates them most, but new generations of employees who are more conscious of non-monetary factors on their quality of life have closed the gap in terms of what motivates most effectively.
Intangibles such as interesting work, growth opportunities and autonomy are primary motivators and key retention tools. When it comes to tangible rewards, surveys show that gift cards and points programs that can be turned into rewards of a recipient's choice rank more closely to cash than they ever have. "It's really a challenge when you are trying to provide employees with something in addition to salary. The only way to top cash is with more cash. It becomes expected as part of the compensation," said Richelle Suver, vice president of incentives and recognition at One10 LLC, an industry leader in marketing, incentive and travel services.
Stephanie Harris, president of the Incentive Research Foundation (IRF), an organization that produces research and education about the use of non-cash incentives, said the type of merchandise that is popular in incentive and recognition programs has shifted with the times. For decades, consumer electronics was far and away the category king in terms of merchandise preference. The rush of home improvement projects spawned in the last two years as the pandemic-stricken world spent most of its time at home has resulted in home furnishings, patio accoutrements and other home improvement items knocking home electronics off its pedestal.
Home office equipment has also been a big benefactor of the pandemic. Many companies have provided gift cards or stipends to remote workers so they can improve the efficiency and effectiveness of their home work spaces.
Merchandise also plays an important role in incentive programs that revolve around travel. On-site gifting experiences add excitement during an offsite and give participants a memento to remember the event long after it has ended. And for incentive programs with long-term goals that last a quarter or longer, merchandise that is awarded for accomplishments along the way can keep the excitement of an incentive program top-of-mind.
"Seeing work purely as a transaction is not a good way to think about employees," states Andy G. Schmidt, CEO of mobile communication platform provider 6i Communication. "If money is the only employee engagement strategy we are offered, then the only way to keep the team motivated is to continue to offer more. To boost employee engagement, leaders have to understand the individual motivations and infuse them into the job regularly. That's real incentive."
Most important intangible rewards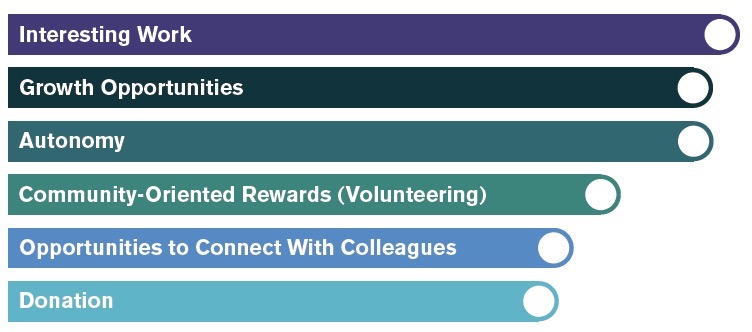 Most important tangible rewards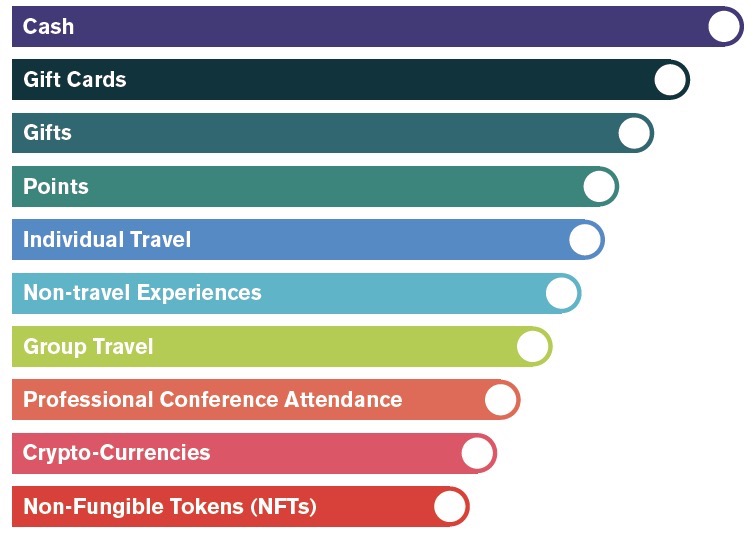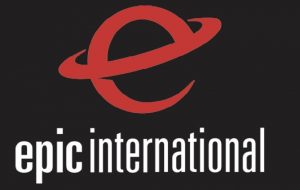 Reward With Leading Brands
Epic International, the leading supplier of recreational and fitness products in the incentive industry, maintains an award-winning listing of internationally recognized brands with nearly 5,000 products in Replink. Factory trained premium reps are ready to assist your merchandise search. For more information, contact Rick Low at rick@epicinternational.com or call 804-240-7360.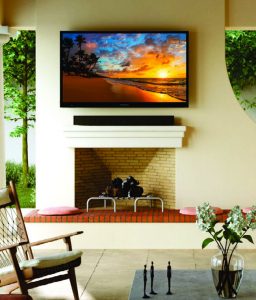 Furrion Aurora 4K Outdoor Smart TV
Designed for the ultimate backyard entertainment experience, the Furrion Aurora 4K Outdoor Smart TV features a bright, stunning picture and a waterproof housing for long-lasting outside enjoyment. With full sun, full shade and partial sun options, these are made to deliver optimal viewing in any light condition. Contact Micah VanderTuig of O'Rourke Sales Company at 800-523-4730 or email incentives@orourkesales.com.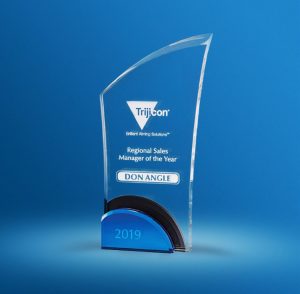 Awards That Get Displayed
J Charles has over 26 years of expertise crafting personalized awards, barware, and home and office products. The unique designs are second (barely) only to outstanding customer service and "beautifully simple" pricing. J Charles makes it personal! For more information, contact Patrick Eppert at Patrick@JCharles.com.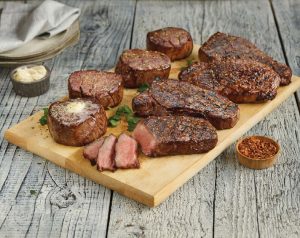 Taste that Delivers
The Kansas City Steak Company™ has been providing premium-quality steaks direct to consumers for more than 90 years. All freshly cut steaks are perfectly aged, subzero frozen, vacuum packed and shipped directly to the recipient's door. Select from a wide range of products to create a centerpiece for celebrations. Perfect for incentives, employee recognition and rewards, milestones and employee or client gifts. For more information, contact 866-511-1527 or visit www.kansascitysteaks.com.

Full-Service Brand Sourcing
Loyalty Source develops relationships with sought-after brands to source merchandise to incentive (B2B) channels across Canada. With over 4,000 products, the company fulfills and distribute to corporate markets including customer loyalty programs, corporate gifting and employee incentives, years of service recognition, and more. Contact: www.loyaltysource.com or email info@loyaltysource.com, or call 514-664-5304.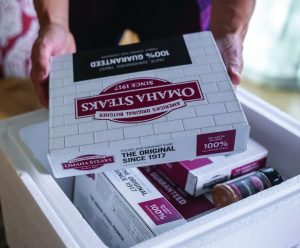 Gourmet Gifting
Give the gift of gourmet this holiday season with Omaha Steaks. With in-stock curated selections and customized gift certificates, Omaha Steaks experts are ready to help you lock in exclusive pricing and volume discounts. Co-branding and personalization available. Visit www.OmahaSteaks.com/SMM or call 800-228-2480 to get started!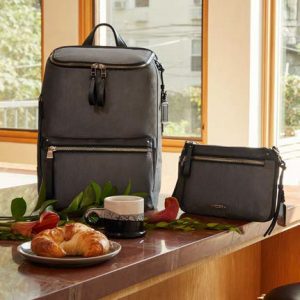 Traveling In Style
TUMI is the brand of choice for the upscale traveling professional. TUMI offers luggage, business cases, women's fashion bags, small leather goods and other travel accessories. Whether you are recognizing a top performer, choosing a special gift for a special client or simply want to give the very best, nothing says excellence like TUMI. For more information, contact 800-669-3181 or email sales-specialmarkets@tumi.com.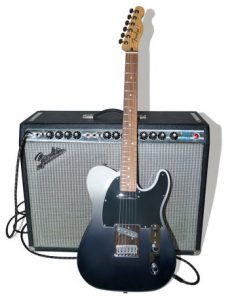 An Iconic Brand
An American icon, Fender was founded in Southern California and has established a worldwide influence that extends from the studio to the stage — and beyond. Everyone from beginners to the world's most acclaimed artists have used Fender instruments, amps and gear, making the company not only a revered industry leader but a cultural symbol that resonates globally. Contact Sarah Demetriou, National Sales Manager at KleerWest, at sales@kleerwest.com or visit www.kleerwest.com.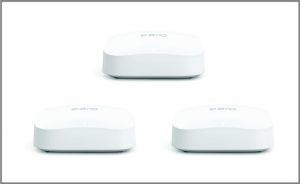 eero Pro 6E Mesh Wi-Fi Router
The new tri-band eero leverages additional bandwidth to maximize Wi-Fi. A patented TrueMesh technology intelligently routes traffic to reduce drop-offs and dead spots, so users can confidently stream, game and get the most out of their smart home and mobile devices. Contact Micah VanderTuig of O'Rourke Sales Company at 800-523-4730 or email incentives@orourkesales.com.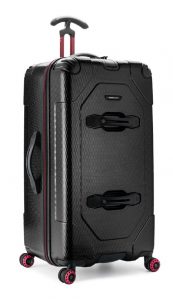 Maxporter Hardside Trunk Spinner
This durable travel companion is made from 100% polycarbonate materials. It features a patented T-cruiser handle system as well as grip handles on the front, top, bottom and side. Protective corner guards on the top enhance its rugged performance. Patented cyclone dual- wheel spinner system is a traveler's dream. The fully lined interior has custom adjustable shelves. Contact George Cassius at Earth Gear Corp. at 718-338-0177.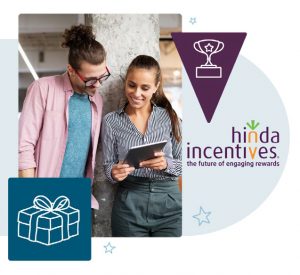 Engage the People Who Matter Most
Inspiring rewards inspire the people most important to your business with awards they will always remember. Hinda offers a comprehensive rewards portfolio with something for everyone. Our merchandise award selections are designed to capture their imagination, encourage performance and provide tangible symbols of success. Visit www.hinda.com to learn more.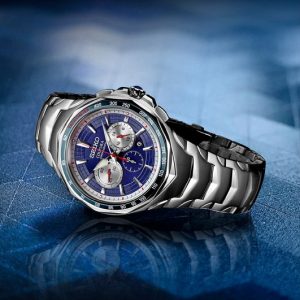 Seiko Coutura Collection
The Seiko Fall '22 Coutura Collection quartz chronograph has a multi-layered blue dial with pressed pattern and silver accents. Features include chronograph, seconds and 24-hour subdials, as well as date calendar, LumiBrite hands and markers, sapphire crystal and blue tachymeter bezel. Case diameter is 45.5 mm. Includes angular stainless steel case and bracelet and cabochon crown. Water-resistant to 10 bar (100 meters). For more information, contact Contact Jeffrey Brenner, director of special markets for Seiko Watch of America at 201-529-7984 or email specialmarkets@seikousa.com.