In the 1991 movie "City Slickers," the sage cowboy, Curly (Jack Palance), told the New Yorker, Mitch (Billy Crystal), that the secret of life is "just one thing." He went on to say that when you find that one thing, you stick to it and nothing else matters — though Curly used more colorful language. Mitch asks, "but what's the one thing?" to which Curly replies, "that's what you've got to figure out."
Now, here I am claiming that the future of B2B incentives (and B2B loyalty programs for that matter) depends on just one thing? That's a lot of pressure for one short article!
What New Research Shows
In June 2022, the Incentives and Engagement Solution Providers (IESP, a division of the Incentive Marketing Association) conducted a market research study focused on the direction of B2B incentives and loyalty programs. The objectives of the study were to discover emerging best practices in the design and execution of these programs, and to reveal innovations that are powering new successes in program results. The respondents were a mix between corporate buyers of B2B programs and solution providers in this industry.
A white paper, which will be published in late September by the IESP, will contain a full breakdown of all the findings.
EXPECTATIONS – What objectives are changing in corporate incentive buyers today?
According to survey respondents, the three most important objectives in running an incentive or loyalty program are:
Motivating people/customers to achieve greater results for our organization
Recognizing and rewarding members/customers for their continued loyalty to the brand
Building deeper relationships with our most important business drivers
The next three objectives cited are:
Celebrating and retaining our top performers
Encouraging personal and professional development
Capturing new data for personalization and segmentation
It is notable that the top three responses are all long-term and strategic in nature when compared to the other responses. Phrases like "continued loyalty" and "deeper relationships" signify an alignment with much broader brand goals.
The research also explores non- financial (soft) objectives and refines the list of program metrics from the standpoint of business value.
TRENDS – What are the top three trends that are impacting incentive program strategy?
According to survey respondents, the top trends in program strategy (ranked by percent of respondents citing) are:
Programs are increasingly issuing points for brand-related activities beyond just sales or purchase transactions, such as points for posting reviews, taking surveys, social sharing, training completions or content consumption (60%)
Store-branded gift cards and prepaid cash cards are among the most popular rewards in loyalty programs (45%)
Incentive and loyalty technologies are deeply integrating with ERP, CRM, marketing automation, and data warehouse applications to share data and to activate engagement (39%)
B2B programs are increasingly a destination for brand connection, and not just for revenue. Brands are seeking deeper relationships with the people who impact their business, and they are using motivational platforms to help encourage and grow those relationships. That is not an easy task, however.
Enabling brand connection requires a broader data set than what is traditionally used in incentive and loyalty program design. Thus, it is critical to tie other data sources to a program to help with deeper segmentation and behavior tracking.
INNOVATION – What is the most important capability that will drive the future of all incentive and loyalty programs?
Responses to this part of the IESP survey indicate that the future of incentive and loyalty programs is bright when they are designed to be more dynamic and more fully integrated with the broader marketing tech stack. Survey respondents were asked to select key emerging capabilities that will increase their ability to create engagement, increase efficiency, and improve the effectiveness of their broader marketing efforts. This chart shows the top four responses: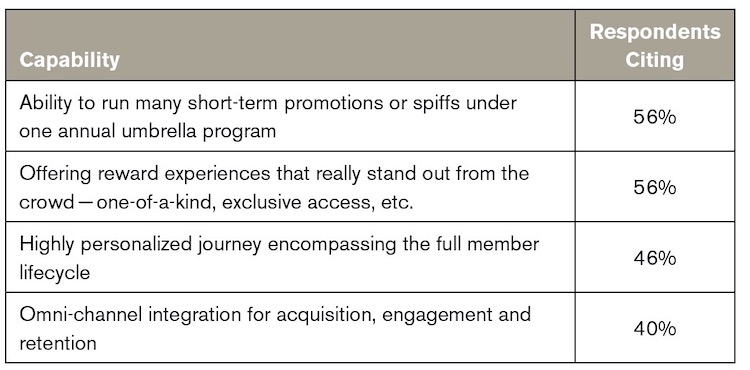 Program owners are embracing newer technologies and services to maximize their impact and to maintain a competitive advantage. These innovations do not replace the core value of reward-based programs but serve to increase overall program engagement and impact.
Alright, City Slicker, What Is the One Thing?
In a word, personalization. Success today for B2B incentives and loyalty programs depends on the ability to make program experiences personally relevant. In many ways, this has always been true, but program participants have changing expectations based on how they relate to businesses today vs. when incentives were born. Simply put, rewards for transactions or achievement is old school and brands need to dig deeper.
The research provided data that bears this out:
Program objectives and expectations are moving beyond immediate return and looking toward broader/deeper relationships.
Rewards for non-purchase activities is trending. This creates a need to provide content and new brand connection opportunities.
Programs are increasingly running segmented promotional offers and activations underneath the broader incentive or loyalty campaign.
Personalization doesn't just apply to emails or promotions. It will have an impact on the foundation of the program itself. The program rules structure, the to can flow based on what they engage with, where they engage, and how often.
If you own or manage a B2B incentive or loyalty program for your organization, the things you need to be doing to enable your program to catch the personalization "gravy train" (continuing the Cowboy Curly analogy just a bit too far) are:
Add new data to your program member database that will inform segmentation and promotions.
Develop queries and algorithms that turn your data into intelligence for the purposes of putting the right content and promotions in front of the right people at the right time.
Always leverage what you know already about members. Keep the relationship easy and let them know you value what they've shared already.
Create new members-only content and make it as specific to the user as possible (e.g. don't send me a video on product line A when I purchased product line B from your brand.)
Share all program data with other marketing technologies (CRM, marketing automation, ERP, etc.), as it makes those systems smarter and more efficient.
Interested In Future Research from the IESP?
Anyone who is interested in incentive and B2B loyalty solutions to should look at the IESP website (https://www. incentivemarketing.org/iesp) and consider joining. There are many more resources and learning opportunities there to engage with, and it's the best place to have your voice heard related to our future research.
If you would like to join our content and corporate outreach committee, reach Chris Galloway via LinkedIn (https://www.linkedin.com/in/ christophergalloway/) or email (cgalloway@brandmovers.com).