I've had the pleasure of working in the enablement industry for more than 10 years. A lot has changed since the early days, but there's been one constant since the industry was born: enablement is about building relationships. Relationships between buyers and go-to-market teams; relationships between sales reps and their managers; and inter-departmental relation- ships across organizations. What began as a technology to help sellers meet their quotas and engage buyers is now a diverse industry dedicated to fostering a thoroughly human experience.
Where We've Been
Way back when, enablement technology was focused primarily on the sales rep. What we once referred to as "sales enablement" allowed sellers to create and maintain a consistent, organized content strategy that helped them get assets to their audience as quickly as possible. Having one single source of truth for content promoted overall accessibility and structure, and it, well, enabled sellers to deliver consistent experiences to their customers. They were building real connections with customers through experiences and content they could count on.
But we learned a successful buyer journey can't be dependent on buyer-seller relationships alone. A stellar sales team won't get you far if your customer service or marketing team isn't on the same page. That's why enablement technology has taken on a more holistic role in recent years to serve more than just the sales team, evolving toward supporting everyone involved in the customer journey.
If other teams aren't delivering because they lack the skills, processes and knowledge — as well as access to valuable assets for their customers — the buying experience may be lacking. In the end, it's about creating happy customers who want to extend their partnership with your company, not leave as soon as their contract is up.
Where We Are
When the pandemic took the in-person element out of selling by rendering most human-to-human connections impossible, enablement rose to the challenge. It now plays a critical role in companies' growth plans. Enablement technology is no longer simply providing skill, knowledge, and process support — it's the bridge between people and departments. Enablement allows teams to keep their motivation high while the whole world works remotely.
Now, social selling is a priority for revenue teams looking to make connections with their buyers in a remote environment. We've seen social media tools evolve to ensure we're meaningfully engaging our prospects from our very first interaction. With emergent social selling capabilities, enable- ment technology helps us provide early value, build strong relationships based on trust right out of the gate, and position ourselves as consultants and partners rather than just salespeople. The right enablement tools can be a major differentiator when it comes to meeting prospects where they're at and making them feel heard.
With the majority of training sessions and events now taking place using video meeting software, we've also seen the advent of technology that addresses the need for virtual events and training to take standard video meetings to the next level.
These tools allow enablers to create interactive and fun virtual instructor-led trainings (VILTs) and eliminate the need to fly folks to one location for events, which is a huge money saver, not to mention a way to make connections virtually. This isn't to say that in-person events and trainings should be replaced by virtual forever, but that supplemental tools exist to make these processes seamless and engaging, regardless of whether they occur online or IRL (in real life).
Furthermore, with the enablement industry and profession exploding worldwide, there's a wealth of new space for software development and advancement. The need for learning management systems (LMS) and sales readiness software has increased exponentially, as we now have to train new hires remotely. We've learned that LMS and enablement technology need to sync and operate in tandem to ensure a smooth passive and active enablement experience. Using enablement technology to onboard and train your revenue teams doesn't just improve alignment and consistency; it drives team growth and brings disparate teams closer together.
Where We're Going
As the enablement industry continues to expand, we're going to see more and more new hires ending up in roles with zero experience. That's no fault of their own. It's not as if any of them had the opportunity to complete a degree in enablement (yet). This will lead to a skills gap between the more experienced professionals and those just breaking into the industry, which means there's a greater need for enablement education overall.
We'll also likely see more small software companies arising to address minute enablement needs, like improving experiences and tracking ROI and impact. We know that enablement efforts help drive company growth, people development and ultimately revenue. It's about showing which metrics we're directly impacting and which leading and lagging indicators come into play. Enablers who try to track their own performance are the ones who will eventually thrive in this space.
And while enablement will likely still be the new kid on the block for many organizations, it will become increasingly important to have a data-driven enablement strategy to increase top-line revenue and reduce unnecessary spending. That necessitates the proliferation of the enabler role, an employee whose primary function is to drive strategy, provide ROI, track impact and ensure their voices are heard across the organization.
The world of selling today would be virtually unrecognizable to past generations of salespeople, but that doesn't mean the core tenet of selling — building relationships — has changed. Enablement technology has evolved over the years to help us make connections with every person involved in the customer journey, just as the selling motion itself has evolved. I can't wait to see where it goes next!
Get our newsletter and digital focus reports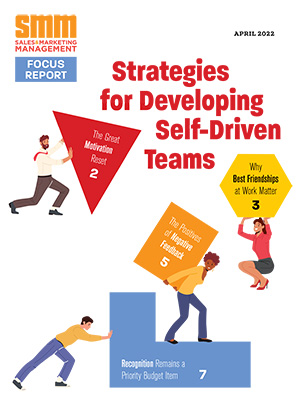 Stay current on learning and development trends, best practices, research, new products and technologies, case studies and much more.