Patricia Fripp chooses her hats carefully and her words even more carefully.
The sales presentation and executive speech coach says a stylish hat has proven to be a reliable conversation starter for her over the years — and starting a conversation is the only way to eventually make a sale.
"People will walk across a room to tell you how much they like your hat. Finding a way to make it easy for people to talk with you is essential," she said.
A distinctive hat may be a great conversation starter, but Fripp emphasizes that salespeople must have a clear under- standing of how conversations with prospective customers should flow to be successful. The strongest salespeople know how to stand out and be memorable. The first step to accomplishing that is to talk about what matters to each prospect.
"When somebody says, 'Tell us about your company,' what they're really saying is, 'Tell me how my company would be better off by doing business with your company,' " Fripp said.
Having worked with hundreds of companies on sales presentations — and continually honing her own sales pitch — Fripp offered some of these insights on frequent mistakes and tested tactics for more effective sales presentations during a phone interview. Other tips are taken from her downloadable  PDF, "11 Mistakes Sales Professionals Make in Their Presentations."
Start with congratulations – Find a success story for each prospect and help them celebrate it. It could be a new product launch, a new client they've landed or the fact that their stock price is up significantly. "It's not that difficult to find something about them to celebrate. Look at their website, call the receptionist or call some of their customers. By the time you speak with decision-makers, you've undoubtedly talked with other people along the way who can give you [celebration- worthy] information," she said.
Use prospects' words to summarize their needs – Prospects and customers will never disagree with themselves. Take their words and put them into your presentation, as in, "You said one of your biggest challenges is…"
Always bring your own happy customers' stories with you – Reps should have a portfolio of success case studies that will resonate with any prospect they encounter. This allows for a twist to the axiom to talk about your clients, not your company or your product. "You're going to talk about you all the way through, but you'll do it with stories of successes that match their needs," Fripp said.
Use the proper structure – Here again, it's critical to make sure the conversation or presentation is structured around each prospect's interests, challenges or opportunities. Put as many of their words into the presentation as possible.
Don't talk too much – Reps need to avoid the laundry list of features and capabilities that makes it into so many marketing materials. Prospects are more interested in their companies than yours. Know how you can help them solve their problems and stick to that.
Omit needless words – This is taken from "The Elements of Style," William Strunk's bible of effective writing. Fripp didn't say this verbatim, but she strongly believes it, whether it's sales conversations or visual presentations. "PowerPoint is a visual aid, not a scripting aid," she said. If you feel the need to have a more descriptive PowerPoint as a leave-behind for those who weren't at a presentation, develop two versions of it, Fripp advised.
Wrong levels of abstraction – For first contacts with executives, reps should describe what your company can do for them from a high level of abstraction. They should be ready to shift to more detailed and technical discussions if questions lead them there.
Some decision-makers will require plenty of data. To maximize each meeting, speak the same language or bring an associate who can.
Be specific – Specificity builds credibility and helps position you above the competition. If reps are armed with specific success story data, instead of them telling a prospect they will likely grow their business with your company's help, they can say, "There are no guarantees, however, our last three clients increased sales an average of 32% in seven months."
Make sure last words linger – Identifying the most practical next step is necessary before winding up a sales conversation, but your last words also give you a great opportunity to reinforce what makes you the best choice. "The walkaway line is the No. 1 reason they want to do business with you."
It may be how your company has been around for 100 years and will be around for more than100 more. If your company is smaller than competitors, you can reassure prospects that you're big enough to handle all their needs, but small enough that the prospect will always be treated as a VIP.
Get our newsletter and digital focus reports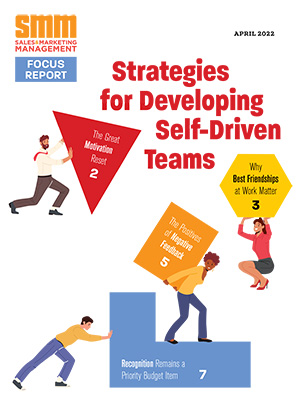 Stay current on learning and development trends, best practices, research, new products and technologies, case studies and much more.