Instead of workers bouncing from high school to college to long-term workaday jobs, New Reality careers will involve more creativity and more entrepreneurial choices.
"Your career model will be quite different from that of your parents' and grandparents' and will diverge further in coming decades," author Ben Lytle writes in his book "The Potentialist: Your Future in the New Reality of the Next Thirty Years." 
"Their careers were straightforward: high school or college, jobs with one to four employers, compartmentalized work and homelife, stable social institutions, and typically a short retirement before death (often from neglecting their health). All that is over — the career and lifestyle of your forebears is not going to be your path."
More and more workers in the coming years are bound to choose entrepreneurial careers over traditional employment. Entrepreneurs — think of them as "inspired value creators" — bring creative force to ensure greater decision making. They are fueled by an unquenchable desire to create something of value and be rewarded with wealth, respect, changing lives and the world.
Keeping Incentives Aligned
Alignment of incentives is one of the keys to business, and is especially important for managers trying to keep their teams engaged and working cohesively toward a common goal.
That entrepreneurial mindset has been on display through the so-called "Great Resignation." Millions of workers have shirked traditional jobs in order to strike out on their own.
Instead of getting paid simply for their time, current and future workers are focused on getting paid for value and want to feel connected to what they do. Employees are becoming more self-reliant and less beholden on power structures of the company of the past.
Upwork's Freelance Forward Economist Report spoke to these trends, with two qualities reigning over everything else: career ownership (68%) and the ability to work remotely (54%).
Future leaders will need to reconsider their concept of teams and act decisively in order to retain top-tier talent. That means being inclusive and flexible, and making sure that workers feel valued and aligned with the company's ambitions.
The Right Mindset for Marketing 
and Sales
An entrepreneurial mindset is especially important for marketers, who need to be able to articulate a company's mission and vision.
"If you can't keep your messaging clear and simple, you will lose customers. Single-mindedness about your core message is essential here because it keeps the marketing plan focused," Shama Hyder, the CEO of Zen Media, a B2B PR and marketing firm, wrote for Forbes.
That mindset is also needed for salespeople, who typically guide sales in defined areas and often need to find creative solutions to clients' problems. As a client-facing company representative, salespeople are quick to learn about issues facing current clients, as well as opportunities in reaching new customers.
Engaging Your Team
It's vital for companies to foster and encourage that entrepreneurial mindset. A 2021 study by Microsoft, "The New Future of Work," found that employees who received more direct support from their supervisors were 2.5 times more likely to maintain their productivity levels and work-life balance, and that 1:1 times with their managers correlated with reductions in weekly working time and a diminished meeting and email load.
Face time with their boss — even remotely — allowed employees to "prioritize work and resolve issues faster," according to the study.
Organizations that engage their team members are poised to prosper, while those that fail to adapt will wither and disappear. Think of Uber and the taxi service industry, or Netflix and video rental stores like Blockbuster.
Engaged employees are more inclined to speak up about a company's perceived threats and suggest solutions. They are more likely to remain engaged in the company's success.
Leaning Into Change
Individuals adapt faster than organizations 
to change.
"Individuals can make decisions and change their lives overnight because they have few, if any, other people they need to consult," Lytle wrote. "However, organizations have many conflicting constituencies to convince and processes to adapt—both of which can take months, years, or even decades. An organization's owners, leaders and employees may be vested in preserving the status quo, causing them to deny or resist change even if inevitable."
In this era of hyper-speed change and disruption, companies that are slow to respond to challenges are poised to fade away and disappear. These changes make quick-thinking, innovative managers a crucial safeguard in protecting the company from threats and team unrest.
"Individuals can make decisions and change their lives overnight because they have few, if any, other people they need to consult."
The way to keep a team — especially a future team — working toward the same goal is to empower their collaboration. That means offering just wages and stability and a deep connection to your company's mission.
With increased offerings and disruption and democratization, the trend of employees staying at a company for their entire career through the ups and downs — something common for our parents and grandparents – is gone. Instead, entrepreneurial employees will constantly be looking for the best fit for their services.
Get our newsletter and digital focus reports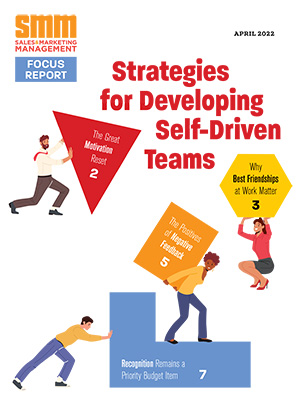 Stay current on learning and development trends, best practices, research, new products and technologies, case studies and much more.