Some companies sell to businesses and some directly to consumers, but fundamentally, digital selling strategies rest on the same principles. Sure, the approach and tone might vary based on the audience, but B2B buyers behave quite similarly to B2C consumers. Digital selling yields the best results when companies offer consistent experiences across all channels, including brand image, media releases, client presentations, customer service, and product engagement. Organizations that deliver cohesive experiences stand out in their fields and deepen their relationships with loyal, high-value clients.
EY found that the increase in products and services available to B2B buyers in recent years has made them more discerning. Transparent marketplaces and online content have also given them a better understanding of different vendors and have enabled them to make more informed purchasing decisions. In much the same way that B2C consumers vet brands through social media references and online testimonials, B2B buyers are conducting more due diligence as well.
Tech + Relationships = Better Sales
Sales teams that want to connect with B2B clients must empower them through useful, transparent engagement. Unfortunately, many well-intentioned companies can't get out of their own ways. For instance, a business might establish an internal center of excellence that produces content designed to educate prospects about its services. However, the content either never leaves the theoretical stage or is too in-the-weeds to resonate with the average buyer.
Silos also present huge barriers to effective digital selling strategies. Many sellers cut their teeth on live prospecting, generating leads in person at conferences and events. But digital selling requires an entirely different skill set and mode of engagement, one that includes collaboration with the marketing, IT, and customer service departments. To reach prospects in meaningful ways, salespeople must be mobile savvy and attuned to their online consumption and communication patterns — much like the strategies they would deploy to woo B2C customers.
That doesn't mean the relationship-building component is less important. If anything, relationships are all the more vital in an increasingly crowded market. When all offers appear equal, customers tend to buy from people they like. But salespeople must begin client relationships where their clients are — and those clients begin vendor searches online.
How to Master Digital Selling
Aberdeen Group, a tech research company, found that salespeople who incorporated digital selling techniques outperformed their less tech-inclined colleagues by 23 percent. Similarly, EY researchers discovered that digital selling can boost lead-to-close conversion rates by 25 percent through digital tactics. When prospects are drawn into the funnel through resonant, engaging content and ads, salespeople can spend less time educating them on product basics and more time addressing their core needs. Those efforts often lead to improved customer relationships and long-term retention, but they work only when tech- and relationship-based strategies are combined.
Salespeople who want to maintain a human touch while leveraging the power of digital selling can use the following strategies to get the best of both worlds:
1. Walk a mile in customers' shoes.
There's nothing more human than empathizing with another person's experience, so companies should explore the customer journey from the client perspective. What type of response do they receive when they ask questions? Is it warm and supportive or cold and delayed? Are the emails they receive relevant to their pain points and interests? Or are they filled with company jargon that no one outside the business understands?
When I worked at American Express, we engaged in an intense 30-day trial of our clients' experiences. We tracked every email, phone call, hold message, presentation, response time, and product pitch. By the end of those 30 days, every team member had gained a new appreciation for what it meant to be an American Express customer and how the experience could be improved. We then broke into teams to launch 10 new initiatives to create a better customer journey. A year after those projects were implemented, new client acquisition had increased by 46 percent and existing client revenue jumped 67 percent. Only when you understand the customer experience can you make it more effective.
2. Share data across departments.
Contrary to popular assumptions, selling is a companywide responsibility. Each department holds valuable data that the sales team can use to improve its processes. The accounting team can report on clients' purchasing patterns, while customer service representatives can share information on the most common questions and complaints they receive. That data proves invaluable to salespeople who are constantly looking for ways to overcome client objections and determine which products are most likely to appeal to different prospect segments.
3. Forge partnerships between sales and marketing.
Sales and marketing teams make powerful allies. The sales team is on the front lines of customer engagement, but marketing is responsible for enticing people to the brand in the first place. If marketing gets its strategies right, it will attract qualified leads via content and advertising. The sales representatives can then nurture those relationships and increase these conversion rates.
Salespeople can also improve the customer journey by sharing data with the company's marketing specialists. Once the marketing team understands the most common pain points and funnel blocks that the sales reps encounter, they can develop content that assuages customers' fears and makes them more receptive to the sales teams' pitches.
Digital selling is a must in the modern B2B environment. Brands must adapt a B2C mindset when selling to their corporate and enterprise clients, and that requires interdepartmental cooperation and digital savvy. As the lines continue to blur between B2B and B2C, the combination of technical tactics and a customer-centric brand experience will be essential to winning and retaining customers.
Sona Jepsen is the global head of sales enablement at Fidelity National Information Services (FIS). Her team empowers FIS's global sales teams with sales content, strategic insights, and world-class learning and development opportunities.
Get our newsletter and digital focus reports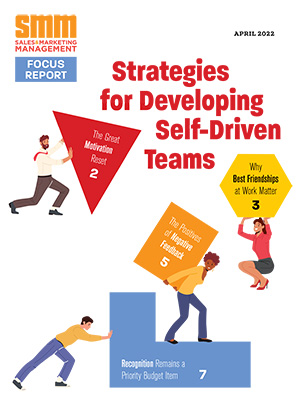 Stay current on learning and development trends, best practices, research, new products and technologies, case studies and much more.