Leaders at Ecosense, a supplier of real-time radon detection and monitoring devices for single-family homes, multifamily residences, schools, public buildings and commercial buildings, knew the company was primed for exponential growth if it could get in front of the right prospects.
The company's radon monitors integrate a patented, high-accuracy ion chamber detection technology together with state-of-the-art analysis and processing software capable of delivering the first accurate radon result in minutes not days. The company, which notched approximately $1.3 million in sales in 2020, expects to end this year with between $3.5 million and $4.5 million in sales.
Ecosense has five internal salespeople, so Insoo Park, the company's founder and CEO, knew the kind of growth he was after would have to involve outside partners. In addition to selling direct to homeowners through Amazon and other online retailers, Ecosense marketed itself through home inspection businesses.
Reaching broader markets will require a deeper and wider network of channel partners.
Enter Dallas Jones, who was hired by Ecosense earlier this year as a vice president and given the mission to broaden the company's channel partner network. Jones previously served as the executive director of the American Association of Radon Scientists & Technologists (AARST). In that role, he spearheaded national radon data collection for the Centers for Disease Control (CDC) and successfully lobbied and secured adoption of AARST voluntary consensus standards by the Environmental Protection Agency (EPA), Department of Housing and Urban Development (HUD), and 20 state radon programs.
"I was looking for an executive with extensive radon experience, strategic business development skills and a good reputation in the market. Dallas met all those criteria," Park said in an email exchange with Sales & Marketing Management.
Creating New Go-to-Market Partnerships
In a telephone interview, Jones said he is working to increase the number of channel partner relationships among "mom and pop" home inspection businesses throughout North America while simultaneously expanding their network to include radon mitigators, real estate agents and environmental consultants who work on large commercial projects.
Some of these new business partners wouldn't have imagined partnering with Ecosense just a few years ago. Real estate agents viewed radon testing as a potential deal killer or, at the very least, a hurdle to clear and not mention again. Jones said he is changing attitudes by showing these businesses that partnering with Ecosense can be a win-win endeavor, which is the longstanding formula for creating and fostering strong channel partnerships.
"I don't think it's a matter of changing how we go to market as much as how can we get into areas more effectively," he said. "I know the opportunities very well because of my background. There is a traditional way that things have been done. People who have been at this for a while think a certain way. When you give them something fresh and new, sometimes it takes a moment for them to try on that idea. It's a matter of being persistent and clear with your messaging."
Make Smart Choices
The most successful partnerships in any aspect of life are the byproduct of recognizing a good fit. As Aja Frost of Hubspot states in a blog post, "the process of finding partners is almost identical to finding prospects. Just like trying to sell to everyone reduces your focus and actually harms your overall results, trying to partner with everyone is a bad idea."
The first step is to identify a prospective partner's goals and determine whether you align with them. Presumably, you are reaching the same target audience with different — and complimentary — offerings. Both parties typically hope to increase revenue, but that can be accomplished in different ways. A channel partner may be a reseller, a referrer who doesn't close sales or an affiliate who simply builds your brand presence.
"Once you've identified your partner's goals, you can work on responding to their needs," said Chad Brinkle, owner of High Country Off-Road, a parts and accessories manufacturer. "Take the time to understand their business and their market better by asking questions, finding out more about their past projects, and understanding their clients better."
Frost recommends determining potential partners' technical expertise, determining whether a prospective partner's sales process is compatible with yours, and honestly assessing how much commitment would be required for success. A commitment to train channel partners and provide ample support early is expected, but they should ultimately operate mostly independently from your company.
If both companies agree a partnership is beneficial, it's wise to create a contract that spells out in detail the roles and responsibilities of each partner. What training is necessary? Who is covering what costs? What metrics will be measured to gauge success, and what timelines are reasonable? Are exit options necessary?
Others we spoke with who have experience initiating channel partnerships emphasized that starting the partnership is one thing, getting partners to stay engaged and make the win-win proposition a reality is a whole additional challenge.
The Importance of Onboarding
Studies have shown that an employee's first 90 days on a job greatly impact how long they will stay with a company. The same holds true for channel partners. A carefully structured onboarding process goes a long way toward turning burgeoning channel partnerships into long-term successes.
Most B2B sales processes are becoming more complex, not less. Buyers have more people involved and, in many cases, have more informational needs. Channel partners should get at least something close to the same amount of training and have the same understanding of the sales process as inside sales reps.
Ahmed Hirani, vice president for global strategic partnerships at Brainbox AI, said that once his company has identified a solid channel partner, it initiates a training process that can take up to six months to complete. There is product training through webinars and on-demand videos, instruction on their sales process and ride-alongs on early sales presentations. Brainbox AI produces HVAC software as a service (SaaS) technology that leverages AI to make buildings smarter and greener.
"We spend a lot of time training these resellers to be able to act as our own agents in the market space. We want to give them everything about competitive analysis and objection handling," Hirani said. "We find it more successful to engage with them on their first three to five sales calls and work with them to hone the pitch. We ensure the level of service to our customer (the reseller) and their customer (the end user) is white-glove service."
Brisa Renteria, an entrepreneur who started her own sales recruitment company called Improve Growth, added, "The more you train your channel partners, the more loyal they will become. They should get better at having sales conversations, and see revenue increases as a result."
Keeping Channel Partners Engaged
Channel partners probably won't represent your product line exclusively. While some contracts prohibit a channel partner from selling a competitor's product, they still usually sell multiple lines and earn revenue from multiple partnerships.
A partnership may start with a lot of promise and positive energy only to quickly fizzle as the channel partner disengages.
A partner may not experience as much immediate success as they envisioned, causing the relationship to lose momentum.
Some important elements to keep channel partnerships engaged have already been mentioned. These include:
Clarifying and aligning goals
Investing in thorough and effective onboarding
Agreeing how success of the partnership will be measured
An incentive program is another good way to keep channel partners engaged. Compensation is a primary motivator, but creative use of non-cash incentives can be a difference maker far beyond the cost of the rewards themselves. Brainbox AI rewards new partners with gift cards of varying value for the first five sales they close. "That helps us drive the opportunities, fill their sales funnel and, by virtue, our sales funnel," said Hirani.
Be sure to align incentive benchmarks with your goals. As with any incentive program, it's important to know the interests of participants so your rewards are, well, rewarding. Gift cards and points programs provide flexibility of rewards and often turnkey administration. Many companies reward top resellers with an annual incentive trip, where they combine product training with bonding and relationship building. When tied to sales goals, these programs are usually self-funding.
Open communication and data sharing also foster stronger channel partnerships. Communication includes designing marketing materials that are tailored to your channel partners' needs.
"How do you make sure your voice is heard above all the rest? Understanding them as a partner," said Preseetha Pettigrew, vice president of strategic alliances for Seismic, a sales enablement company with headquarters in San Diego. "Bigger partners may be more generous with incentives, but what I think is more important is to understand [your partners'] teams and what they care about. If we want to align with their sales teams, we need to have them understand why working with us is going to support their goals more than other possible partners."
Pettigrew said about 30% of Seismic's sales are supported by a channel partner who adds value to the end customer in some way. They may provide the lead or support Seismic through the sales cycle by providing insight on a deal or connecting Seismic's salespeople with key decision-makers at a client company.
"We want to maintain a small set of meaningful strategic partnerships where we dive deep into those relationships and build strong alignment with them across all different elements of their business," she said.
Subhead
In the end, developing strong channel partner relationships relies on many of the same things as having success with full- time hires. Ensure a good fit by having clear objectives for partnership. Once partners are selected, onboard properly, compensate fairly and motivate with regular incentives beyond compensation. Strong and open communication — including being a good listener — are vital to long-term success.
There is a wide range of technology tools that will help support your channel partnerships as they increase and become more complex. Answering the question "What's in your tech stack?" in regards to channel partnership software is as important as any other area of technological investment.
Just as it is important to cut bad hires loose when it becomes apparent they are not a good fit, you can't afford to cling to poorly performing channel partnerships when there is little hope things will turn around. Your brand image is on the line. Admit a bad fit as politely as possible and move on.
Less than 20% of respondents to a survey on channel  partnerships conducted by Channel Marketer Report and Demand Gen Report describe their current program's ability to sell and market through channel partners as very effective.
Nearly two-thirds rated their channel sales and marketing support as only somewhat effective. Yet a whopping 96% of respondents said they expect to increase revenue directly attributed to their partner ecosystems.
If you're in this group of sales and marketing leaders who plans to lean heavier on channel partners to produce revenue, you can't do it on the cheap. The survey report states, "Recognizing their responsibility to engage and collaborate with partners more effectively, B2B executives are committed to allocating more resources for channel incentives and partner training. At more than 40% of the respondents' companies, partner portals will be added or upgraded."
There is no time like the present to review your current channel partnerships, determine which ones remain valuable to both sides, and have an honest conversation on how the partnership can be improved.
Get our newsletter and digital focus reports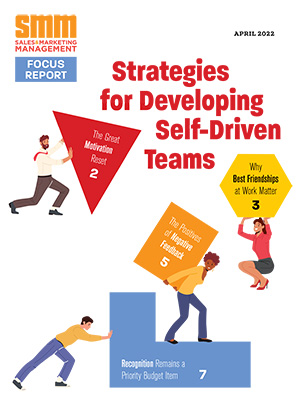 Stay current on learning and development trends, best practices, research, new products and technologies, case studies and much more.