What is a coaching culture and why is it important? The Forbes Coaches Council states, "a coaching culture simply means supporting your employees so they learn new skills and become greater assets to the company."
The common theme behind instilling a coaching culture, as stated by the Hudson Institute of Coaching, is "coaching improves performance, increases retention, creates higher
levels of engagement and provides tools and proven processes for developing leaders both in the moment and in the longer- term coaching engagement."
Study after study shows that top performers choose to work at companies in large part because of their culture, including a commitment to developing employees at all levels.
Many companies profess to make coaching and skills training a priority, but how many actually do? A recent State of Sales Coaching report by ringDNA, developers of revenue acceleration software for Salesforce CRM users, indicates there is more preaching than teaching occurring in B2B sales environments.
The State of Sales Coaching study shows that approximately half of sales leaders report spending less than one hour per week per rep on coaching. This despite evidence that 61.4% of companies with effective coaching programs in place spend more than an hour per rep per week compared to only 38.7% among companies where coaching is ineffective.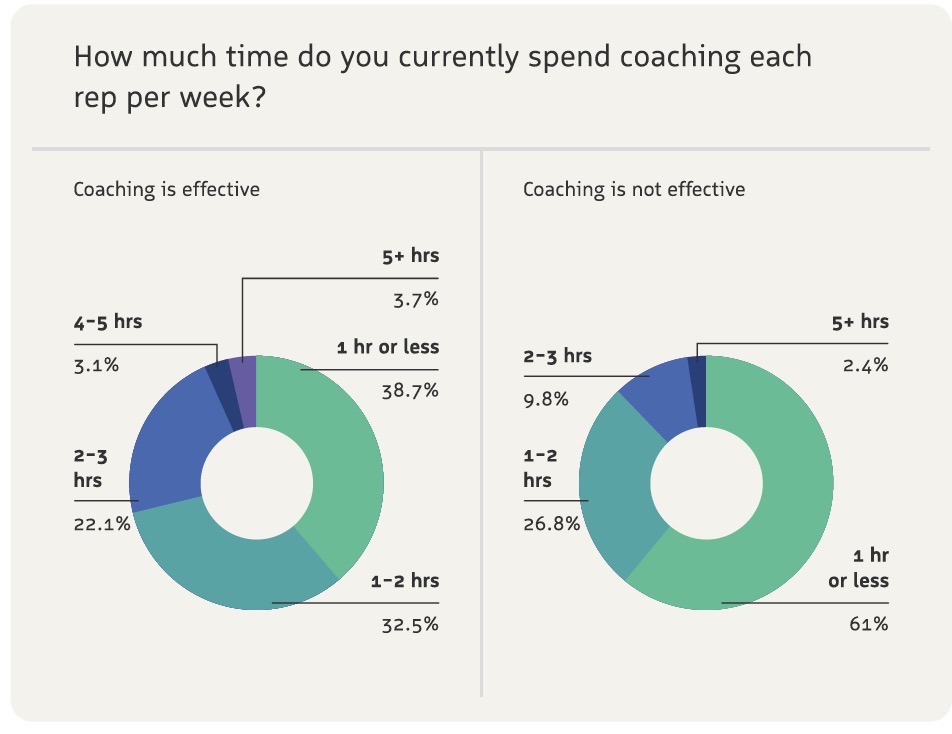 Other key discoveries about coaching culled from the ringDNA study include:
Coaching Ownership Matters
Nearly half (49.5%) of the companies surveyed said the responsibility of coaching fell on sales managers. However, digging deeper into effectiveness, organizations that have dedicated coaches are more successful with their coaching programs. This could be for a number of reasons:
Sales managers have to juggle coaching with other priorities whereas coaches do not.
The hiring of a coach could signal greater institutional buy-in for coaching programs.
Coaches may be part of a greater coaching curriculum.
Regardless of the reason, the correlation is clear. More companies are contracting for regular coaching, Tyree said.
The Number of Reps Per Coach Matters
Most companies (47.1%) have one to five AEs per coach, with the next most common ratio being 6 to 10 AEs per coach.
Companies with effective coaching programs are more likely to have few reps per coach. It stands to reason when you have fewer reps per coach, they are able to spend more time with each rep and receive more personalized feedback.
It's also worth noting that external evidence suggests AI-powered coaching tools can actually decrease the
number of sales managers needed. The ringDNA report states the number of reps sales managers can comfortably manage as much as doubles when leveraging the right tools. (See page 6.)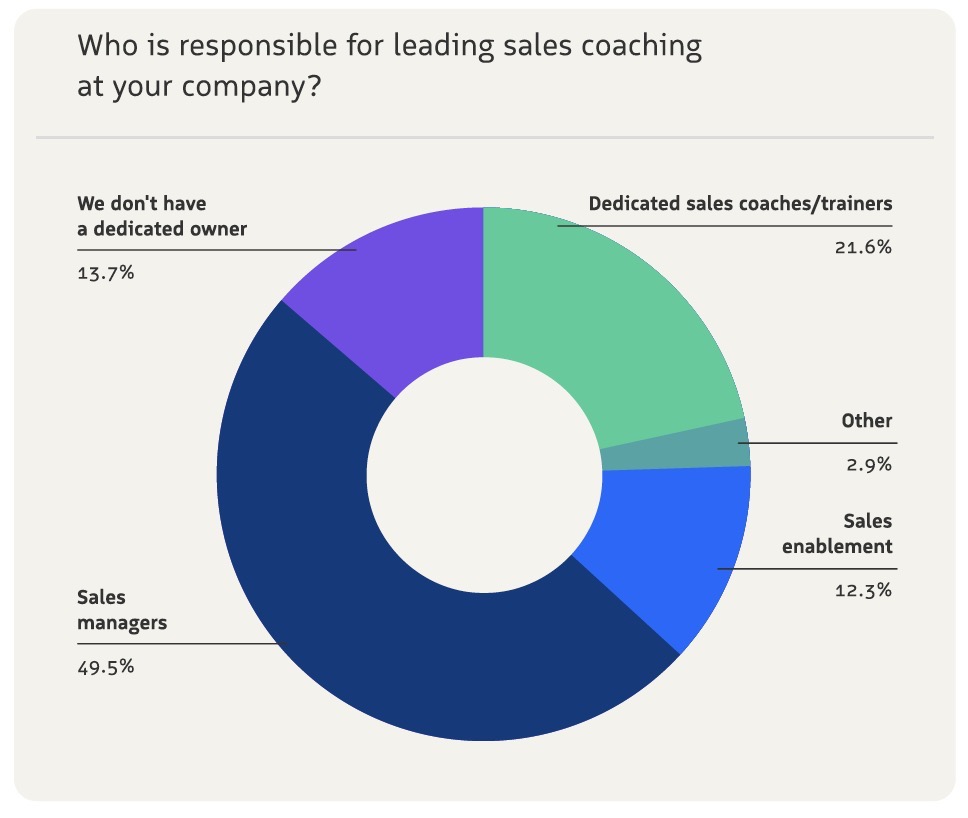 Key Findings from ringDNA "State of Sales Coaching" Study
Scaling coaching is the No. 1 priority among sales teams.
The majority of sales reps get less than one hour of coaching per week.
Remote sales reps get less coaching from managers.
At least 70% of all sales coaching is not data-driven.
Having regularly scheduled coaching sessions leads to both better coaching effectiveness and rep satisfaction.
Effective coaching programs focus on how to ask better discovery questions, while ineffective programs focus on how to handle common sales objections.
Companies that choose which calls to coach at random are more likely to have ineffective coaching.

The Pandemic Added to the Problem
The transition to virtual selling during the pandemic seems to have exacerbated the preexisting problem of lack of coaching. According to the report, nearly half of sales development reps and account executives report receiving less coaching while working remotely.
The remote work world happened almost instantly for most companies in 2020. If there wasn't much sales coaching happening when workers were in the office, it wasn't likely to happen once the pandemic forced teams to work remotely.
Some sales teams are transitioning to in-office work again, but for those maintaining an aspect of working remotely, Steli Efti, CEO of Close, a provider of inside sales CRM, says sales leaders must structure a detailed sales coaching plan and stick to it.
Writing for Forbes.com, Efti's tips include setting a clear agenda for each one-on-one (with both parties taking responsibility for the meeting), scheduling time to listen to sales calls, developing peer learning sessions, and scheduling virtual sales huddles to share wins and commiserate on losses.
Time together as a group is important, whether it's remotely or in person. However, Marianna Tu and Michael Li, writing for Harvard Business Review, emphasize that one-on-one time is where true mentoring occurs.
"Investing time in meaningful, deep connections with individuals one-on-one can be a refreshing change and a chance for more authentic connection. Guided dialogue and discussion questions will help mentoring pairs uncover their common humanity — no matter how different they may seem on the surface," they state.
Proven ROI
"A coaching culture enables a radical organizational transformation by building coaching skills and fostering coaching conversations on a daily basis," writes Frederic Funck, the Center for Creative Leadership's director of executive coaching programs. He adds that a coaching culture creates an environment where people can freely give and receive feedback, stretch each other's thinking and engage in development conversations that may be short, but have lasting impact.
Funck says his organization saw firsthand the impact of coaching when it worked with a client in the banking sector that introduced structured coaching throughout its organization in response to feedback that revealed issues around engagement and motivation stemming from a transition in leadership.
Approximately 500 managers spent two hours (in increments of 30 minutes) addressing their particular needs with a coach over the phone. In a follow-up survey, the managers reported collectively that simple coaching conversations were worth the equivalent of 3 million euros based on an aggregate value of time spared, decisions made, actions taken, proposals won and conflicts managed.
States Funck, "A coaching culture improves not only the way employees interact with each other, but also the interactions they have with customers and potential clients."
Get our newsletter and digital focus reports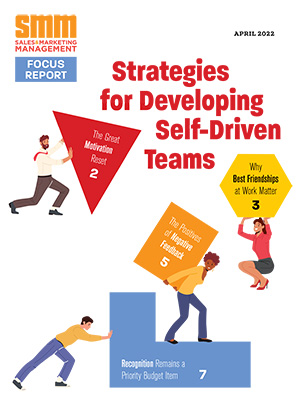 Stay current on learning and development trends, best practices, research, new products and technologies, case studies and much more.