Technology has never played a more vital role in companies' go-to-market strategies. The tools in each sales team's tech stack can make the difference between blowing past competitors or falling short of quota — again!
Relationship building will always be a key component of selling, but handshakes and hobnobbing alone don't cut it in today's competitive environment.
Choosing the right technology is among the most important decisions that sales leaders make. Software is used for every- thing from screening applicants and onboarding new hires to providing veteran rainmakers with highly qualified leads and the data to create the type of finely tailored messages that close deals.
Consider the role of tech sales and marketing tools as you take in these statistics from the LinkedIn Sales Solutions "State  of Sales Report:"
Digital buying is here to stay – 55% of buyers say that working remotely has made buying easier, while nearly 40% of sellers say they have closed deals over $500,000 without ever meeting the buyer face to face.
Top salespeople conduct more research – More than three-quarters (82%) of top performers say they perform research "all the time" before reaching out to prospects (compared to 49% for other sellers).
Technology turbocharges sales – Four out of five (80%) sellers who reached 150% of quota or more use sales tech at least once a week. Only 58% of other sellers use sales tech once a week.
Top performers embrace technology – By about 30 percentage points, top sellers are significantly more confident in their CRM data than other sellers are. Similarly, by about 20 percentage points, top sellers say they are significantly more likely to use their CRM systems more often than other sellers are.
Getting the Tech Stack Right
A 2021 survey by B2B sales software provider GetAccept and Pavilion Data Systems indicates that businesses have between four and 10 tech tools in their sales stack. It's common to have significantly more.
Gartner coined the term "sales tech mayhem" in 2021 to define the bull market in sales tech investment and the influx of sales tech providers. When the world went remote due to the COVID pandemic, businesses poured money into digital tools. Budgets have tightened since then, but there is still intense pressure for leaders to keep their teams technologically competitive.
"People are all-in on sales technology," said Jarod Greene, a Gartner alum who is now vice president of product marketing at sales enablement provider Highspot. "Sales leaders are looking for the confidence that if they invest $10 into their revenue tech stack they'll get $100 in return. There are about 1,500 sales tech solutions to help teams be more productive. I don't think any of them are wrong, but we just don't know how it all fits together."
Sales technology, broadly defined, is any IT infrastructure, software or other program aimed at enhancing sales reps' performance. Sales tech tools assist with lead generation and qualification, prospecting, sales funnel organization, account tracking, predicting buyer readiness, analysis of multichannel communication with prospects and existing customers, demo automation and more.
Gartner surveyed more than 3,000 business leaders in sales, marketing, supply chain management and HR in 2022, asking them which software purchases for sales revenue within the last two years made the most impact. CRM/salesforce automation was the top performer (15% of respondents), with sales predictive analytics (13%) and sales enablement platforms (12%) finishing second and third.
Gartner divides the 16 different categories of software identified in this survey more broadly into six categories. Operations, the most impactful category, is software that is used to "streamline and automate processes from early pipeline generation stages through post purchase." Forty percent of respondents stated this category of sales software was the most impactful.
Twenty percent of respondents identified "core apps" as their most impactful software purchase within the last two years.
Core apps is identified as "those that help organizations meet the core automation, workflow and buyer engagement needs of highly specialized go-to-market roles." The category includes sales acceleration applications, customer service management, and sales engagement software.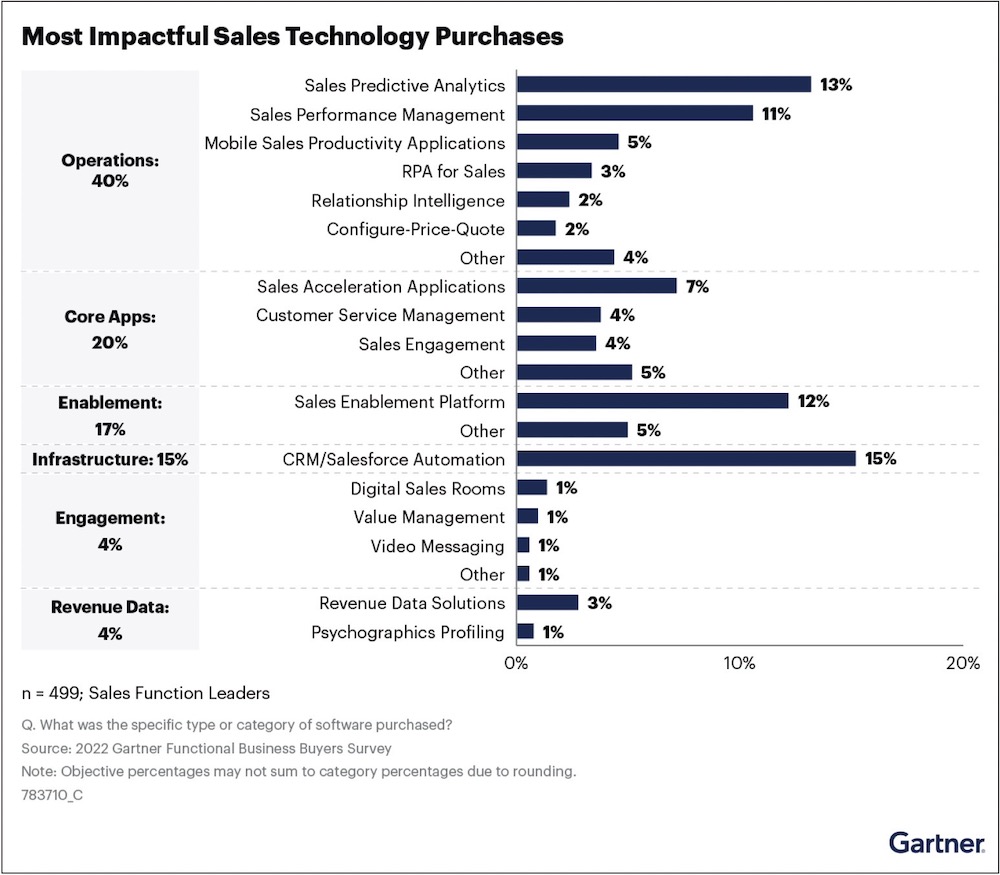 Enablement runs a close third with 17% of respondents citing it as their most impactful purchase. Although infra-structure has the most cited type of software — CRM/sales force automation — it is only the fourth-most-impactful category in the survey.
"What jumped out to me is the investment in core applications, specifically sales engagement and sales acceleration applications," said Dan Gottlieb, senior director analyst in the Gartner for Sales practice. "It makes a lot of sense because you're seeing more attention given to the end-user experience. It's also not surprising to see analytics higher up, especially as pressure to demonstrate the ROI of a variety of initiatives will show up in sales analytics results."
Getting Reps to Use Tech
Choosing the right sales technology can be vexing. Getting sales reps to use the technology that companies invest in can be even more challenging. A number of reports have found that nearly half of all software as a service (SaaS) installed by companies (sales and non-sales oriented) is not used.
Some salespeople bristle at ever-expanding sales tech stacks, arguing that time spent entering data into CRM systems or reviewing data from analytics tools is time spent not selling.
However, statistics from the LinkedIn "State of Sales Report" and others like it should go a long way toward convincing salespeople that today's tech tools can help them be more productive and efficient.
Gottlieb said endorsement of sales tech software from peers is among the most effective means of converting non-users to users. Also, formal and thorough training on any new software is essential to ensuring adoption. One client successfully drove adoption by creating exclusivity. Software was initially offered to only five managers, then expanded in phases to those who would commit to its use.
The expansion of technology and data combined with a lack of training has resulted in a skills gap, according to Gartner. Sales leaders should create a road map that identifies the tech skills necessary to achieve sales operations goals and develop a skill acquisition strategy that provides those capabilities.
By 2027, 50% of total sales operations roles will be filled with talent that has either an MBA or science, technology, engineering and math (STEM) background, according to Gartner's 2022 State of Sales Operations and Revenue Operations Survey. Within that same time frame, statistical analysis, application development, data visualization and strategic planning will be the top skills for sales operations.
"Whenever you buy software, it should come with a training component as part of the price. If that's not the case, there should be someone internally at a large firm who is responsible for training," said Shavon Jones, a Miami-based attorney who coaches lawyers on the selling side of their profession.
"You shouldn't rely on your team to just explore and figure out the features, especially if they have an existing system that they don't consider as being broken. They'd rather spend their time generating commissions instead of learning and migrating onto new technologies."
In a Wall Steet Journal article on mistakes that leaders make when introducing technology, writer Katherine C. Kellogg emphasized the importance of rotating training responsibilities among senior and junior team members if training is handled in-house. Too often, training that is assigned to junior team members only leaves more experienced workers questioning the trainers' capabilities as well as the necessity of the technology, Kellogg said.
Training your sales team on new technology is not a "one and done," added John Eitel, chief sales officer at Demandbase, a provider of account-based marketing software.
"You need to continuously think about how you train, teach and enable your sellers on the tools at their disposal. Make training and enablement part of your sales team's DNA. Do not just train on launch and move on to the next priority. Have a plan that supports the launch and continues throughout their lifecycle as a seller."
Eitel says lack of commitment from frontline leaders to teach, train and hold teams accountable for tech usage contributes to non-usage of tech tools. "It is important to make your sales leadership team a part of this journey, get their feedback and buy-in early, and have them be active in the rollout strategy. If they don't buy in or see the value it adds to their teams, it will struggle to get adoption and falter."
Audit Your Tech Stack
The pressure to remain technologically current can lead to adopting too much tech too fast, said Eitel.
"Updating your sales tech stack is very much a change journey, and oftentimes I see teams purchase and implement multiple tools at the same time without proper training or repeatedly changing tools based on new leadership. Too much too fast — and without proper training — can lead to tool adoption fatigue with your sales team."
Zendesk, providers of customer support and service software, recommend in a guide to sales technology that sales managers ask these questions to help determine what software to purchase:
Are they a good fit for our company's size, industr and customer base?
Do our reps spend time on any manual processes that can be streamlined or eliminated?
Where is there more opportunity for more engagement?
What key performance indicators (KPIs) are we focusing on?
Sales leaders should audit their sales tech stacks regularly to identify gaps and cull the SaaS that is unused, redundant or unnecessary. If unattended, sales tech stacks can grow beyond the point of tracking, like streaming and other subscriptions that are placed on autopay and forgotten. However, Gottlieb cautions, sales leaders should focus more on the ROI of sales technology they invest in and less on how often specific software gets used.
"One of the fool's errands you'll run into is an expectation that we need to use a lot of the technology to get value out of the contract when value in adoption is really based on whether it delivers some degree of lift in your sales process. If I have a sales process that is long and complex, and I use a technology that's only built for a certain part of that process, that may mean I only need to log into the tool once or twice a week to get value," Gottlieb said. "If I'm using it effectively and it can improve just a couple percentage points of lift, that's worth it."
AI Promises Continued Evolution
The emergence of artificial intelligence (AI) such as ChatGPT and other generative AI software has dramatically shifted the possibilities of tech tools in all aspects of business. Sales software providers are incorporating generative AI into existing platforms as quickly as possible.
Maura Kautsky, president of Sales Xceleration, a company that outsources sales leadership to companies that need to turn around flagging sales, said her company invited workplace futurist Rick Von Feldt to its annual conference in Las Vegas. He moderated discussions by breakout groups about the biggest disruptors to sales in the years ahead and technology was the unanimous No. 1 choice.
"Machines using AI and predictive data are merging with better algorithms to change the experience of sales process tracking, forecasting and closing insights. Because every strategy will have to be proven with data and analytics, the future of sales will need to leverage new tools in the market to support a data-first mindset," Kautsky stated in a blog post.
The ability of AI-driven tools to collect and analyze an almost infinite amount of data means sales personas could be a thing of the past, Kautsky said. Using the data collected on each prospect or customer, marketing messages can be tailored to specific recipients and address their unique needs.
Effective implementation of new technology in sales organizations begins with smart selection — perhaps seeking the voice of sellers as part of the software selection process. From there, make it clear to sellers how the new tools will help them, and provide them with thorough and ongoing training.
Get influencers on board to help promote the use of these tools. Have milestones for objectives and key results. Offer incentives and create short-term contests that encourage adoption of the technology. Be sure to welcome candid feedback throughout implementation and continued use of any technology.
In this era of self-educated buyers who prefer digital interaction with sellers through a significant chunk of their buyer journey, new technology is critical to getting in front of them with the right message at the right time. Sales leaders are understandably focused on the technology needed to help them achieve this. However, they must also be conscious of the seller experience they create as they adapt their selling process to digital-first customers.