We've all heard it before — you can't sell something to someone who isn't buying. It sounds reasonable enough, but it's not necessarily true.
Think about how much time your customer spends actively buying from you. If an average "work year" is roughly 2,000 hours, does your customer spend 25 percent of their time with you? Ten percent? Five? We've asked this question of many salespeople and account managers and their responses are very consistent. Even when you have a successful relationship with a customer, it's likely that they spend no more than 2 percent of their time actively buying from you. That's 40 hours per year, or less. But it's what happens during the other 98 percent of their time that frequently determines what they buy and who they buy it from.
Think about your most recent sales training or the last sales book you read. It was all about the sale, right? Closing the deal. Making it happen. Taking control. But things are different in 2016. Buyers are well-informed. The speed of business has accelerated profoundly. Procurement organizations have unprecedented power. It all adds up to customers that no longer buy the way they once did. And many sellers have failed to adapt.
In 2016, it's time to look at things differently. It's time to think about what your customer is doing when they are not buying, and imagine how you can use that other 98 percent of their time to shape their perception of you and your offerings. Have you made the effort to truly understand your customer's business and explore possibilities that are not yet opportunities? Do you understand what your customer's success really looks like? Have you taken the time to vision that success with them? Have you elevated your dialogue above the conversations they are having with their other providers? Have you discovered what matters most to your customer?
If you aren't doing these things with your customer before the sale, ask yourself this: what if one of your competitors is?
Relationships matter to most B2B buyers today. They prefer to do business with suppliers with whom they are connected and aligned, and they want to do business with people who are authentic in their desire to create and co-create customer value. Salespeople and account managers who build and grow these types of trust-based relationships are in the strongest position to differentiate the uniqueness of their offerings, as well as their ultimate value to the customer. Why? Because the customer has already noticed that there is something different about them, beginning with the more effective way that they engage.
We all know that the definitive measure of customer success is their realization of value. So it's also important to demonstrate a willingness to review and adapt after the sale,
as well as an authentic desire to expand the relationship.
Today's most effective salespeople and account managers engage with their customers before, during, and after the sale, even when there is no immediate opportunity in sight. They proactively put "plans to win" in place that leverage the past proven value that they and the customer have created and co-created, as well as the trust-based relationships that they have developed and expanded, enabling both parties to proactively plan further growth together.
If you only spend time with your customer when they are actively buying, then you're no different from any other sales rep with an RFP in hand, and a briefcase full of tips, tricks and forms. If you only show up when it's time to close the deal, then your odds of establishing and maintaining a long-term relationship that's of mutual value to both parties is dramatically reduced. Ignoring the other 98 percent of your customer's time is a fatal miscalculation, especially if your competitor is engaging effectively before their next sale, or
after their last.  
Steve Andersen and Dave Stein are co-authors of the book "Beyond the Sales Process: 12 Proven Strategies for a Customer-Driven World." For more information visit BeyondTheSalesProcess.com.
Get our newsletter and digital focus reports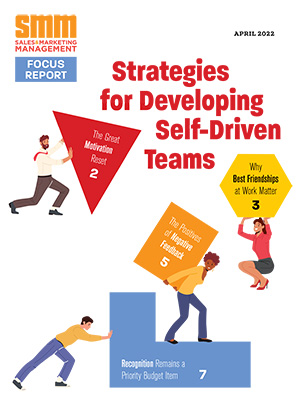 Stay current on learning and development trends, best practices, research, new products and technologies, case studies and much more.