The COVID-19 pandemic turned "Zoom" into a verb and proved to be a boon for sales of everything from alcohol and pets to home improvement materials and streaming content services. It also boosted the use of gift cards in employer-sponsored incentive and recognition programs.
The Incentive Federation Inc. (IFI) reports that among companies that offer incentives, eight in 10 use gift cards in their program. That's an increase from approximately 72% in a 2016 IFI survey.
With much of the world shifting to working from home overnight in March 2020, gift cards became the go-to vehicle to keep remote workers engaged and allow employers to show their gratitude. They can be delivered electronically, fit into any size budget, and provide the instant gratification that became so important as workers were separated from their colleagues and supervisors.
Gift cards have been an increasingly popular element of reward and recognition programs over the past decade or more. Ease of administration and the broad choice they can provide to recipients in terms of reward selection add to their appeal.
They also fit into nearly any type of program, whether it's employee recognition, channel partner incentives, customer loyalty efforts or workplace safety initiatives.
If there is one confounding aspect of gift card use in recognition programs, it's that companies continue to source gift cards through retail outlets rather than going through gift card suppliers that serve corporations and bulk purchases.
These suppliers can provide discounts and additional services that will enhance a reward and recognition effort.
Because gift cards are easy to deliver, it's also easy to fail to properly recognize a recipient and make the reward more memorable. Recognition should be personalized to each recipient. Some may prefer one-on-one delivery from a supervisor while others enjoy more public praise in front of peers. As much as possible, managers should strive to understand each employee's preference and follow through appropriately when delivering a gift card or any reward. Both one-on-one presentations and more public recognition should include a personable message highlighting specific examples of the recipient's stellar performance.

Melt In Your Mouth Good
A Landry's Gift Card is valid at over 600 destinations nationwide. For larger orders ($500 or more) the Corporate Bulk Program is an ideal solution offering both physical and digital options at a discount. Contact Landry's Corporate Gift Card Department at 855-328-5781 Option 3, or visit www.landrysinc.com.

Gift Card Solutions
SB Collectiv provides gift card distribution, marketing and fulfillment services for 20+ national and regional gift card brands. Purchase gift cards with bulk discounts for all your rewards, recognition and incentives program needs. Visit www.sbcollectiv.com to learn more. Contact: Anne Jetter at ajetter@stonerbunting.com.

Digital and Physical Gift Cards
Blackhawk Network is a leading provider of prepaid and gift cards for consumer promotions, employee rewards and sales incentives. Blackhawk Network offers access to solutions in both digital and physical formats, supported by unmatched service. For more information, contact Michelle Manning at 855-672-0435 or visit www.blackhawknetwork.com.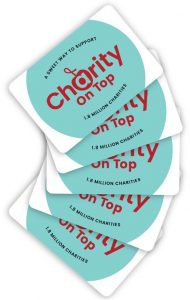 Rewarding Charitable Contributions
Delight your employees and clients with the sweet gift of giving. Charity On Top gift cards are redeemable for any charity in the US so they can choose the one that has their heart. Tax-deductible, customizable, meaningful. Available for rewards catalogs via Incomm digital, NeoCurrency, UnwrapIt, and more! Visit charityontop.org or contact Kathy Selders at kathy@charityontop.org to order directly.

The Gift of Education
Gift of College gift cards provide a simple way to contribute to 529 college savings funds or help pay down student loan debt. They're great for seasonal gifting, employee rewards, attracting and retaining talent, or incentivizing event attendees. Make people feel appreciated with the gift of a brighter tomorrow. Contact Anne Jetter at ajetter@stonerbunting.com or call 402-510-8851.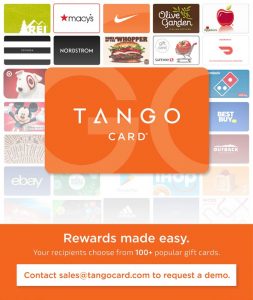 Rewards Made Easy
Tango Card's mission is simple. It makes gift cards easy to send and awesome to receive. It bundles easy-to- use technology, desirable rewards, and expert service to help companies get the most out of their reward and incentive programs. For more information, contact sales@tangocard.com.

Charity Choice Cards
CharityChoice gift cards support 1,000+ major and local charities. Designate funds to your favorite charity to deliver a rewarding experience. Ideal for holiday gifting, employee rewards, saying thank you and more. Contact Anne Jetter for details: ajetter@stonerbunting.com / 402.510.8851 or visit https://www.charitygiftcertificates.org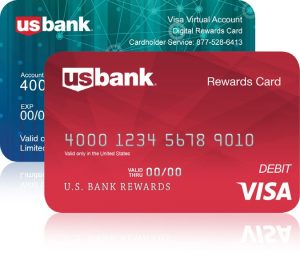 The U.S. Bank Rewards Card
U.S. Bank Rewards Cards are a convenient way to thank and motivate remote employees or allow them to purchase supplies and accommodate traveling expenses. Available amounts range from $25 to $1,000. For more information, contact RewardsCommunication@usbank.com.