A field report is a valuable assessment that delivers vital field data and observations to decision makers in a package that's easy to understand and act on. Alongside written analysis, this type of report often includes graphs, charts, and other visual aids to illuminate the findings. A field report is particularly useful for analyzing trends, illustrating specific data points, and confirming or disproving hypotheses.
For example, construction companies often use field reports to improve worksite safety, collecting data using daily logs, safety checklists, equipment inventories, and records of labor hours. This data is used to analyze trends, present important metrics to leadership (like the rate of injuries), and pinpoint the best times to perform preventative maintenance on specific equipment.
Many companies also commission field reports on environmental data to determine the safety and effectiveness of products such as herbicides and pesticides. These reports can help businesses improve their products and, in some cases, result in serious cost savings. In one memorable example, a private investigator's field evaluation of a particular herbicide's impact resulted in the ongoing appeal of a $265 million verdict against Bayer.
In B2B sales and marketing, field data can help increase conversions and reveal what customers and clients respond to. It can provide information on everything from daily and annual trends to KPIs, net and gross sales, and sales volume.
In other words, field reports help leaders across industries make smarter, more informed decisions.
What Goes Into Field Data Collection and Why It Matters
Field reporting is so useful because it provides direct observations that can facilitate better decision-making and help validate hypotheses. The general aim of a field report is, after all, to detect trends or prove a particular point – two goals more easily reached with expert opinions and observations in hand.
There are many ways to collect the information necessary for an informative field report, but online forms are perhaps the simplest and most effective methods. Forms help standardize the data-collection process, making it consistent and comprehensive. Although some organizations still use paper forms, digital solutions now make it easy to collect data using mobile devices, even offline.
For leaders in sales and marketing in the B2B space, this means there's no longer any excuse for not taking advantage of what field reports can do for their businesses.
Using Field Data for Marketing and Sales
Field reporting is a simple way for decision makers to know what's happening on the ground in sales and marketing. In sales, team members can file a field report after meeting with each prospect to record what was demonstrated, how each lead reacted, and what the best timeline would be for following up. These reports can even come with standard questions to ask during those meetings, such as the prospect's budget and purchasing timeline.
Field reports are useful for understanding purchase trends for individual leads. As more data is collected, they also help identify what type of lead is more likely to buy certain products and when. With this information, leaders can devise strategies to upsell products and services to those most likely to purchase them.
In addition, direct observations from field reports can be valuable parts of marketing research. Customer service representatives, field technicians, and sales teams have unique perspectives, which together can provide a more holistic picture of a company's target customer. Field reports collected from these sources can be used to analyze trends, test out new markets, and improve campaign strategies.
With the right set of forms in place, it's easier to collect valuable data and real-world observations that deliver significant returns on investment. Though field reports might sound like they belong more to the world of research and regulation, it's clear that they can also be powerful tools for B2B sales and marketing professionals.
Get our newsletter and digital focus reports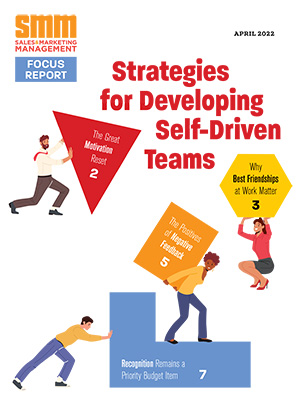 Stay current on learning and development trends, best practices, research, new products and technologies, case studies and much more.