Home
Tech Talk: How Technology Can Create a Sales Edge
Tech Talk: How Technology Can Create a Sales Edge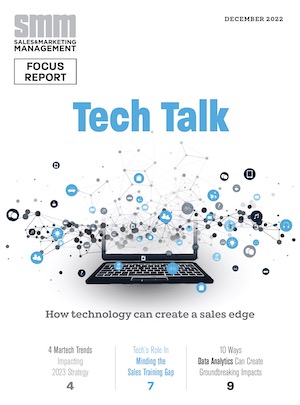 December 2022
View Downloadable Edition
Companies are investing more than ever in technology to improve sales productivity, yet much of the technology that reps are equipped with isn't used. The more that salespeople understand the technology they have access to and how it will improve their performance, the more utilized it will be.
CMOs are evolving their martech teams through increased centralization to create more efficient, scalable, flexible and resilient marketing organizations.
Sales reps are no longer learning in the office or in the field. Thankfully, there are tools and strategies companies can put into place to help close the learning gap.
10 ways data analytics can create groundbreaking impacts on B2B sales.
Failure to deliver in any of five key areas of data analytics can scuttle an otherwise terrific data program.
With live events rebounding, savvy use of media can ahead of events help you get in front the right people.
Press coverage won't be the deciding factor for a prospect becoming a client, but it's one of the many touchpoints that can earn trust before, during and after negotiations.