Home
The High Cost of Low-Tech Leadership
The High Cost of Low-Tech Leadership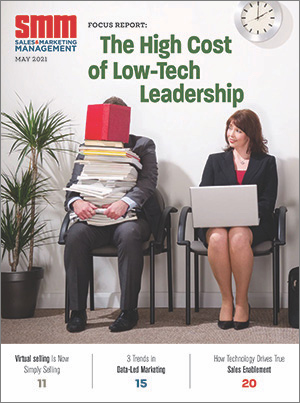 May 2021
View Downloadable Edition
Through four years of testing and development, SalesFuel created a sales microcoaching platform, SalesFuel CoachFeed. It contains four essential elements for upskilling your sales reps.
Sales managers can take heart in a Sales Management Association study that shows effective sales coaching leads to an increase of up to 23% in rep performance. One would assume with an impact like that, sales managers would commit a significant amount of time to coaching. However, the same study reveals that 76% of sales managers spend too little time coaching. The demands of the job — being constantly pulled into meetings, putting out fires and feeling pressured to meet the short-term quota — make coaching less of a priority.
Embracing digital buying processes —  from the research phase to post-sales — is the only way to keep up with customers' evolving expectations, says Marie Hattar, CMO at Keysight Technologies. She offers these tips for improving the B2B digital buying experience.
More than a year of working from home has shown that online video meetings and remote demonstrations work just fine most of the time for business-to-business sales. Many customers, it turns out, actually prefer the virtual approach.