Home
The High Cost of Low-Tech Leadership
The High Cost of Low-Tech Leadership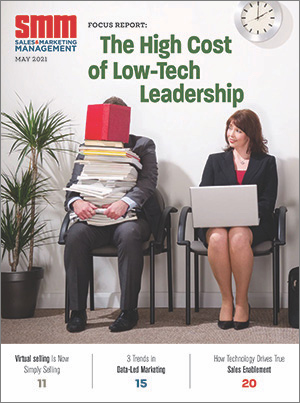 May 2021
View Downloadable Edition
Overall performance suffers when those in leadership roles aren't sufficiently trained
Now that you know that boosting the technological savviness of a leadership team produces quantifiable bottom line results, what steps can you take to get there?
Ashley Diebert says in continu­ously assessing her company's technology needs, she often discovers that a solution doesn't have to mean investing in something new. Many fixes can be accomplished by expanding the knowledge of what your current tech stack can do.
We asked how much of a problem it is when those in B2B sales and marketing leadership roles are not technologically savvy. Here are some comments we received.
Email marketing isn't complicated anymore. With a few simple and effective methods, you can significantly increase your sales and revenue in no time.
Getting sales enablement right is a significant challenge for many organizations. In some cases, it consists of hurriedly cobbled together materials meant for temporary use, while others have scrambled to transfer their structured and overly formal programs, where reps are trained once and material is quickly forgotten, to the digital world. Neither of these approaches works well as part of a long-term strategy to prepare reps for continued success.
Today's sales reps have all the tech they could possibly need at their fingertips: CRM, lead generation tools, email management software...you name it. There's an abundance of technology geared toward helping reps do their jobs better, but not a lot that makes their lives easier.
Customer relationship management (CRM) software is critical to how companies market to, sell to and service their customers, but it's inherently an internal tool focused primarily on process adherence and control. Although "customer" is in the name, it's often not in CRM software's DNA.
A lot of us are enjoying limited face-to-face interaction again, and we'd like more. Whether it's meeting colleagues around the water cooler or meeting new sales accounts at an event, we look forward to additional in-person collaboration and connection.
As we look into the future, it's important to remember that real widespread change happens slowly for such a large industry. People have been talking about assembling customer 360-degree views and utilizing "Big Data" for closing in on 20 years, and articles detailing how effective and popular artificial intelligence (AI) will be in marketing go back nearly a decade.