Must Read Quotes is a UK-based online resource for inspiring, educational and entertaining quotes that come "dressed" with designer-quality images. Company founder and CEO Maurizio Petrone leads a team of seven remote employees (spanning four continents) that tackle quotation research, classification and art direction.
Petrone said his team is building awareness and website traffic that will ultimately generate display advertising and the sale of printed products. He emphasizes that, as with any company, accuracy and efficiency are critical to the company's success. If a quotation or author is entered incorrectly, or if an illustration that is selected to run with one quote is inadvertently used with a different one, an error ticket is submitted, corrections are made and republishing is required.
"Each ticket takes around 5x the time it takes to enter the quote correctly in the first place, which is a cost that we have to pay in the form of labor time," Petrone stated in an email exchange.
To minimize errors and maximize efficiency, Petrone designed a points-based system in which his team members were rewarded for achieving targets, collaborating effectively and exercising exceptional work ethics. Once they reached a certain threshold, each employee qualified for an all-expenses-paid trip.
Petrone brought qualifying workers together for a three- day retreat in Turkey. One day was dedicated to addressing business matters and two days were set aside for exploration and fun. They cruised the Bosphorus Strait and soared in a hot air balloon above the historical Cappadocia region in Central Turkey.
Not Just for Sales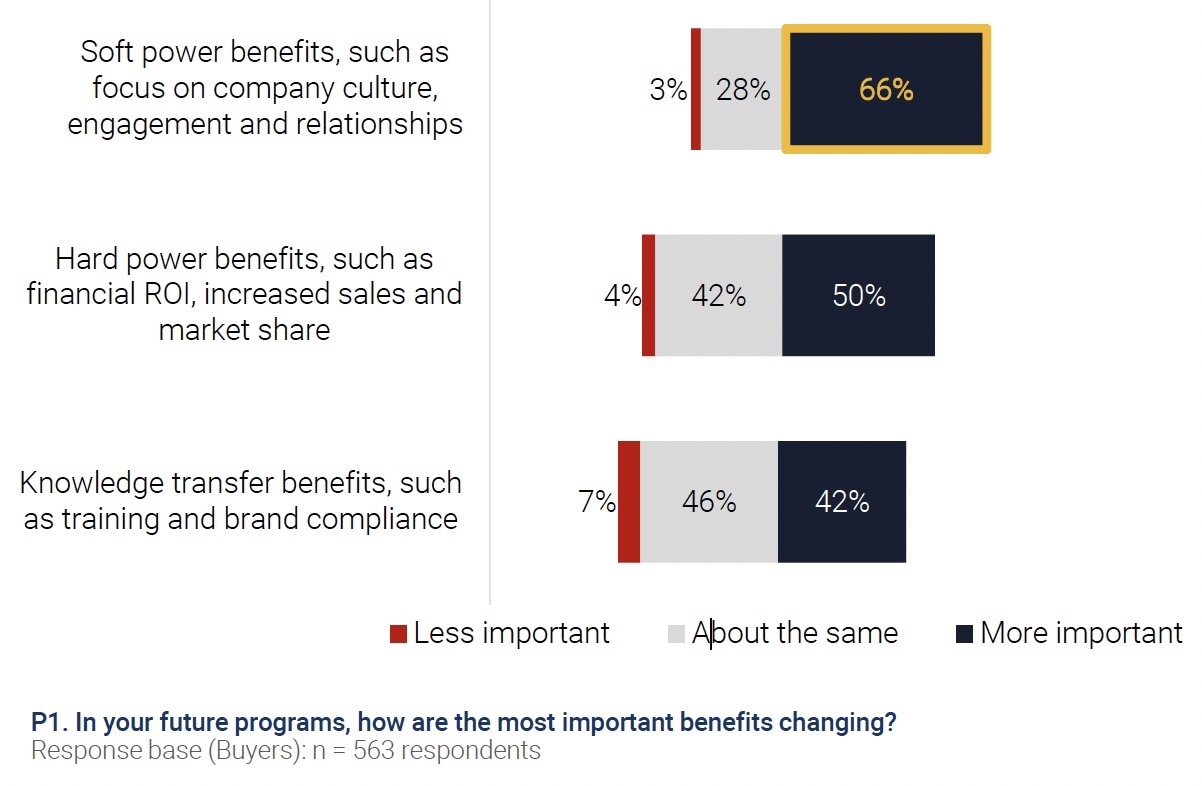 Recognizing top performers with a trip that is loaded with celebratory events is not new, but one aspect of Petrone's program is in line with an emerging trend — rewarding non- sales employees.
Incentive travel programs have long been a means to drive performance from sales teams. These programs are pricey, thus a significant bump in revenue was the most practical way to sell them to the C-suite. The formula was to set revenue goals that would cover the cost of an incentive travel program and increase corporate profits at the same time.
However, the 2022 Incentive Travel Index, an annual assessment of trends and sentiment among incentive travel suppliers and users, reports that two-thirds of buyers state they are placing a greater focus on "soft power benefits" such as company culture and engagement over increased sales. (See the accompanying chart.)
"A key topic that we spend a lot of time with our clients on is monetizing behaviors," said Lincoln Smith, chief strategy officer for HMI Performance Incentives, which designs and manages incentive and loyalty campaigns. "That's a little easier for sales incentives or [channel partner] programs, where you have the sales dollars or units being the key matrix that you're earning to go on the trip. But what we're finding is [clients] building a program that goes beyond just the sales and the transactions. That might be for learning enablement, certifications, referrals, participating in market research and data insights."
Petrone's team doesn't even have a sales component yet. The startup is still generating enough traffic to support advertising. ROI was measured in terms of employee engagement, productivity and reduced attrition rather than focusing on bumping sales. Just as Smith advised, Petrone attached a monetary value to key performance indicators for each member of his team. The researcher was measured by the number of quotes produced each month, the designer had target goals for the number of images generated per month.
The program's objectives also aimed to foster team bonding, strengthen cross-functional collaborations, and culminate in an enhanced company culture, Petrone said.
Productivity rose an average of 3% companywide, which Petrone said was in line with his expectations because the team was already performing at a high level. More importantly, errors fell by almost 10% in the two months after the team event, which he attributes to increased concentration and overall satisfaction with work.
"The ROI of increased accuracy is the most quantifiable for us since we know the cost of each [error] ticket we create. That alone covered 20% of the total cost of the trip," Petrone said.
He also credits the incentive trip with helping him keep his team intact, thereby reducing training costs. Petrone added, "Then there are the intangibles, such as loyalty and morale and engagement, which I believe will produce returns in the long run but will always be hard to quantify."
A Proven Motivator
There is little doubt about the motivational appeal of group incentive travel. In a survey of 400 sales professionals earlier this year by the Incentive Research Foundation, 91% stated that incentive travel experiences are "very" or "extremely" motivating. With work forces skewing younger, it's important to note that 64% of Gen Z (21 to 26 years old) and millennials (27 to 42 years old) feel group travel is "extremely rewarding," a higher approval rate than workers over 42.
SITE research of incentive travel program participants in cooperation with the Cox School of Business at Southern Methodist University showed the average age of incentive travel award winners is 43, while the average income is $166,000. The average age of program participants may continue to get younger, a fact that program sponsors must factor into the activities they incorporate into an event.
Historically, incentive travel events have been centered around team building and bringing workers and top brass together to celebrate successes. However, research from both SITE and the IRF shows the most important thing that participants want in an incentive trip is to be given ample time to relax and make their own decisions about how to spend their time. Other characteristics of these programs that are rated most important by participants include the ability to bring a guest, receiving extra spending money from the program sponsor, and having a unique experience.
Interestingly, having the opportunity to network and being recognized in front of peers ranked among the lowest priorities of program participants. (See accompanying chart.)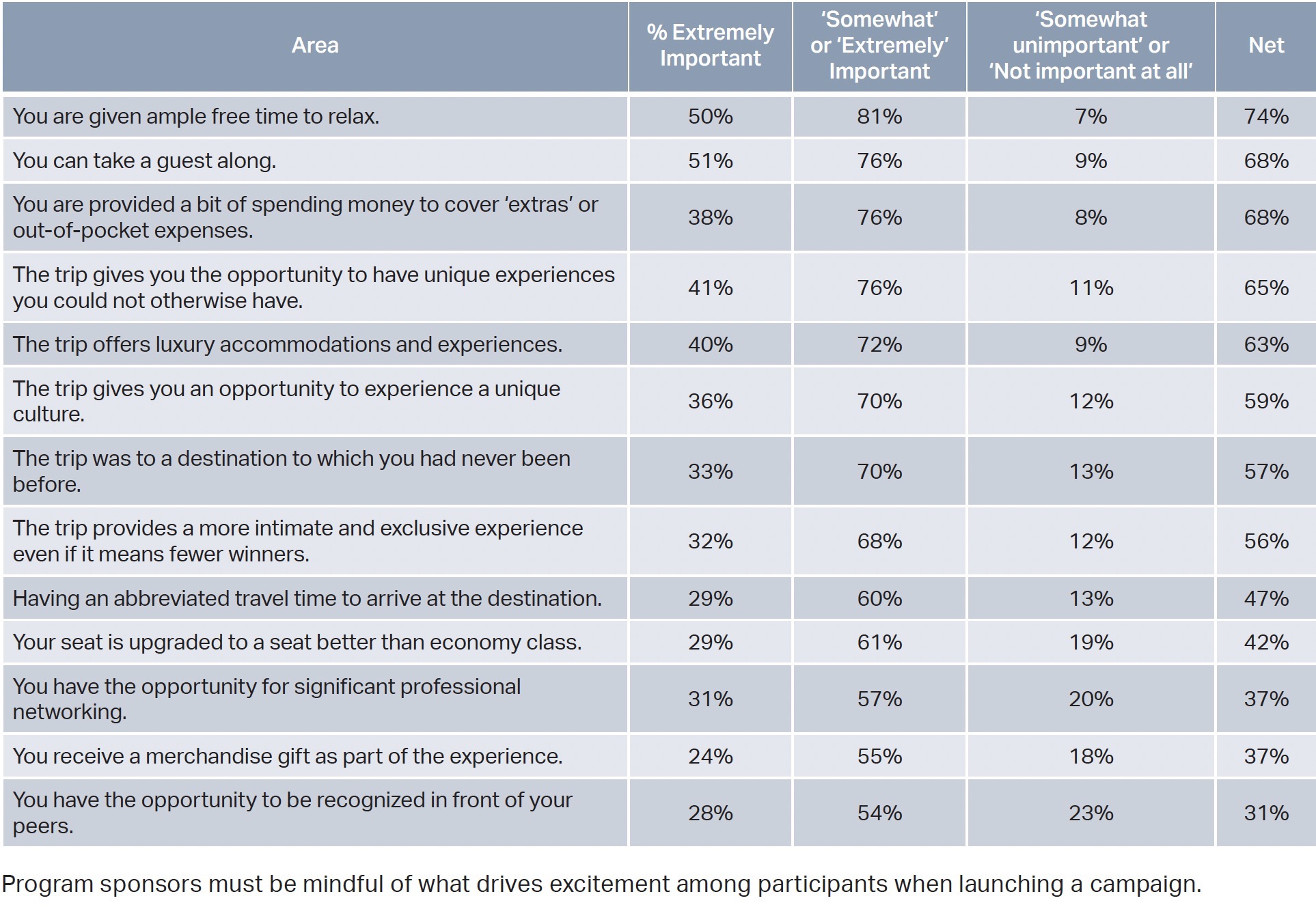 "If you're a senior leader who traditionally has looked at these programs as giving people access to you, it's going to be a bit of a mind shift," said IRF President Stephanie Harris. "It's incumbent on that program owner to [make clear to] leaders that participants want a different kind of interaction. It's got to look different. It can't be so structured."
Smith also does not feel the trend toward providing more free time and less structured networking works against program sponsors' desire to enhance team cohesion and loyalty. He suggests that it could be wise to swap a team social gathering for an altruistic activity that gives back to the community where the event is being held. Such an activity increases authenticity and memorability by creating opportunities in which participants can interact with locals, he said.
Launch to Review: Best Practices
As with anything that must be run by the C-suite for approval, successfully selling a group incentive travel program requires a detailed plan with a clear return on investment. Here are some key components and best practices of launching, staging and assessing a program.
Choose the right destination – Participants express a higher level of interest in international destinations, especially ones that allow for plenty of time in the sun and on the beach.
Destination selection is a balancing act of many factors, including the goals of the program, the demographics of the participants, the time period for travel, the length of the program, and the overall goals of the program, said Crystal Zawilinski, sales director for meetings and incentive programs for Fox World Travel, a Wisconsin- based global travel management company.
She recommends using properties that are "conducive to people interacting with one another." What does that look like? Resorts that are more remote yet attractive. It's not a bad thing to limit the allure and access to offsite attractions. "I wouldn't choose a city property in Europe where you can walk out the door and literally be somewhere in one minute," Zawilinski said.
Set clear, achievable goals – In a SITE survey of program participants, respondents said setting goals that are fair, achievable and in line with company goals are the most essential elements to generating engagement at launch.
SITE reports one of the most common frustrations voiced by program participants is a program that limits the number of reward recipients. One way around this is to build different tiers for qualifying and offer different rewards for more employees. Program sponsors may fear that tiers result in lower performance overall, but industry research shows that when participants are allowed to help set their goals, the majority shoot for the top rewards.
Communicate clearly and often – Most participants receive communication about their incentive travel program once per month. Close to one-third (32%) said they are open to receiving more frequent communications.
E-mail is the main vehicle for delivering updates. However, launching a campaign with a package mailed to your participants' homes, perhaps with a gift that relates to the destination, allows spouses and other family members to get engaged and provide encouragement to the program participant.
Follow up with participants – Surveying participants after the program provides insights into what they liked and didn't like, which is invaluable for planning future incentive campaigns.
"We asked questions mainly around satisfaction, organization and interaction. We learned a ton of lessons around logistics," said Petrone. "Chief among them was to plan activities and meals in advance but leave room for improvisation and spontaneity. We got very positive comments in the area of interaction. The hot air balloon ride was a hit."
A gift that jogs the memory of the trip can be sent to each participant's home several weeks after to extend the positive impact.
Think twice about DIY – Zawilinski said a number of Fox World Travel's customers reach out when members of their own staff feel overwhelmed by a do-it-yourself The worst-case scenario is having an event go awry due to an unforeseen circumstance and the trip becomes memorable for all the wrong reasons. Professional planners have backups to backups, provide onsite services to roll with surprises, and can provide an array of options that DIYers simply aren't aware of.
Planning and Precision
Making the business case for a group incentive travel program starts with knowing the target audience and setting specific goals, whether that is directly related to bumping sales or you wish to pursue softer goals such as increased collaboration, engagement or employee retention.
"It's the top of the pyramid in terms of reward systems," said Smith of HMI. "We spend a lot of time with clients on monetizing behaviors and determining how to measure or quantify those goals."
With planning and proper funding, a group travel experience can create memorable moments that produce 10× ROI — and they can do so year after year. As one program participant told SITE, "Some people go on these and say I'll never miss another one the rest of my career because it's so unique and so much fun."
Get our newsletter and digital focus reports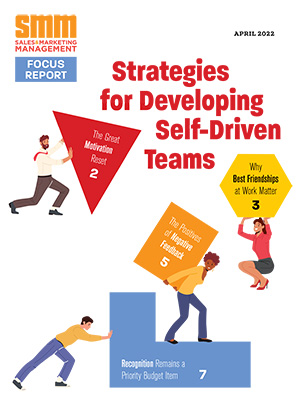 Stay current on learning and development trends, best practices, research, new products and technologies, case studies and much more.