Preparing for and structuring an initial face-to-face meeting with a C-Suite executive is absolutely key to continuing the relationship. The adage that "there is never a second chance to make a first good impression" is never more appropriate than in this case.  Senior executives are often wary of salespeople in any case, so being credible, compelling and concise all apply for this initial face-to-face interaction.
Below is a template that you can use to help develop your face- to- face meetings with executives to discuss their specific needs. Structuring an initial meeting with executives follows the same format as the pie chart shown in that graphic, which suggests that your meeting should have an introduction, followed by a discussion of issues and implications, then deal with solution options, and end with moving forward.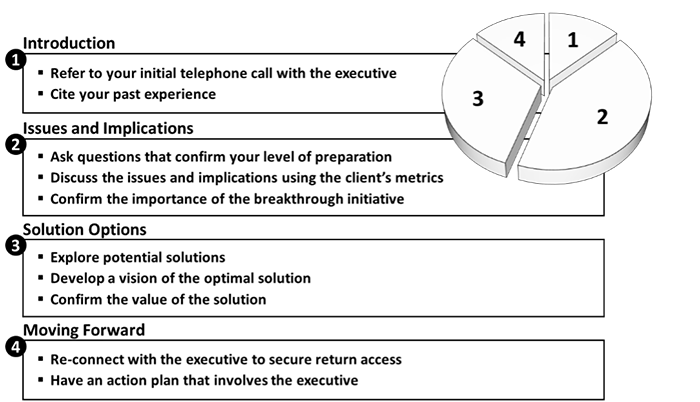 The pie chart suggests the relative amount of time that executives told us they feel should be devoted to each part of the meeting.  For example, if the pie chart were to represent a one-hour meeting, the introduction might take 10 minutes, issues and implications might take 25 minutes, solution options might take 15 minutes, and agreeing on the steps for moving forward might take another 10 minutes
Introduction
Refer to the initial phone call you made to the executive, citing your sponsor or referrer if appropriate. Give the executive a glimpse of some of your past experience, either in his current organization or with similar clients. Set an expectation for the mutual value you expect the meeting to deliver. Meetings without a stated outcome are usually a waste of an executive's time.
Issues and Implications
Ask questions that get you credit for having done your homework. Listen intently, and discuss the client's key business issues, using their metrics. Develop an understanding of this executive's breakthrough initiative and its importance at a personal and company level. The breakthrough initiative is the most important initiative that the client must act upon. It is typically bound by a time frame and accompanied by either significant payback if implemented or consequences if not acted upon. And in many cases, the breakthrough initiative is developed at the executive level and often not even recognized or even known at lower levels of the client organization. If your solution addresses and can provide value for this breakthrough initiative, you will get the executive's attention. However, it's a good idea to leave questions related to solution options for later in the meeting.
Once you move to those questions, it's often hard for both you and the client to step back to the broader, more strategic questions. Try these:
"What effect has this problem had on your organization?" Use the knowledge gained from your research to expand on the situation. This question helps the executive focus on a specific area of the business and allows you to showcase your knowledge of the organization and its industry.
"What three things are you not doing today that would help you resolve the problem? Which one of these is most important to you and why?" These questions will help you understand the gap between what the company is currently doing and what the executive feels it should be doing. More importantly, the answer to the second question will help you focus better on the area most important to the executive. Your goal is to pose such a series of questions to a senior executive and have them step back and go "Wow! Where did you get those questions from? They're really making me think!"
"What have you done to address this problem? Why did you choose this solution? What was the outcome?" These questions all focus on using the past to understand the executive's thought process.
"What do you see as the critical success factors for solving this problem?" This question uncovers whether the executive knows what she wants to do and gives clues about how she will measure the success of the project.
"What are the consequences if you don't solve the problem?" This question uncovers whether this problem or situation has a compelling event that will cause pain if it is not solved within a certain time frame. If the situation has no compelling event, then pursuing a solution might not be worth the time and resources it will require.
"Who are the key people I should talk to in your organization to better understand the problem?" With this question, you're volunteering to be sent down to lower levels in the organization to develop a better understanding of the next steps, thus allowing the executive to view you as a resource.
Solution Options
Only after the issue has been clearly defined and agreed upon should you begin to describe potential solutions that can be related to business value. Waiting until the end of the meeting to explore solutions builds credibility with the executive. Keep your product (or service offering) in your pocket until it's time to bring it out. Develop the executive's vision of the optimal solution. What ideas has he already entertained? Watch for the executive's passion as he describes this vision! Don't necessarily reveal your company's solution at this point, simply confirm the executive's perception of what value looks like to her.
Moving Forward
Find a way to get the executive involved in a follow- on meeting to explore these issues in more detail. For the later meeting, you would plan to return with an expert such as a solution manager or some other presales resource to take the discussion to the next level. The executive might send you down to meet with a lower level executive. This is not always a bad thing if you ask her to make the introduction for you, and if she agrees to reconnect with you after that meeting to review your findings. Being able to legitimately say, "The boss sent me," is like having a key that will open most doors.
This structured approach for this initial face-to-face meeting with a C-Suite executive will yield significant results.  The preparation you've done will serve you well in making this first great impression on the C-Suite executive!
Register for a Free Webinar
Learn more from Stephen J. Bistritz about surviving the executive screening process in a free Webinar hosted by SMMConnect on May 5. Entitled "Helping Your Sales Team Survive the Executive Screening Process," the webinar will explore what senior executives have shared about their relationships with salespeople, including how they should align with the relevant executive to win critical deals. For more information and to register, click here.
Get our newsletter and digital magazine
Stay current on learning and development trends, best practices, research, new products and technologies, case studies and much more.