A well-defined channel strategy is critical to finding the best ways to get a product to the end customer, most typically through intermediaries in the distribution network and, from there, to a reseller or vendor that makes the final sale. The best channel strategies are those that start with a true and deep understanding of the customer – the kind of understanding that is developed through a robust customer segmentation effort. But it is not as simple a matter as undertaking a customer segmentation initiative, then using the results as input to the channel strategy.
In our experience, maximizing the effectiveness of both processes requires that they be performed more or less in parallel. The findings from one can be used to inform the other in an iterative process to get the best results.
Customer Segmentation in Action
A robust customer segmentation effort starts by identifying where the relevant, high-quality customer data resides in the organization. Data cleansing may be needed; in more dire cases, alternate data sources like third-party data providers may be required if the company's own data is lacking. Alternately, non-customer data like government statistics and forecasts can be leveraged and extrapolated; for example, a healthcare company may be able to employ CDC or WHO data around expectations for the coming cold and flu season as input to segmentation work.
The total addressable market also needs to be examined to identify broad opportunities for growth that can then be incorporated into internal customer data. These may include aspects such as who the likely buyers of a company's products are, what the average sales prices for products should be, where the company is and is not competitive. Taken together, this information then informs where the best opportunities to increase sales may lie. This understanding helps to define target segments and industries. Account scoring can also be performed to help understand the likely size of individual customers. These inputs are then used to define unique use cases and buyer personas.
A data storage and management company that was shifting its focus from hardware to software sales and needed to determine what industries to focus on in its future sales efforts worked on such a segmentation effort. They developed and tested segmentation hypotheses on growth sources. They performed a series of analyses (seller and channel partner, sales efficiency and productivity, buyer personae and use case, and value proposition and gap), and interviewed a range of internal and external stakeholders. Ultimately, these initiatives enabled them to pinpoint several target industries that were most aligned to the company's growth objectives, concurrently they identified drivers of success in its existing verticals. This led to the development of a roadmap for growth in these new industries.
Channel Strategy to Determine Best-Fit Personnel
Updating the channel strategy can cause a significant lift, as the findings may necessitate major changes to the salesforce to better target different customer segments. An early consideration is which resources to involve in the execution of a new strategy. Can current employees perform the work or will new hires and/or outside resources be needed?
It is important to define the expectations of those in sales roles, along with what will be required to maximize their performance. The channel strategy team will need to determine quotas, leverage sales managers' insights, and perform formal assessments of peoples' fits for particular roles. The sales process should be mapped to help drive alignment across sales roles and unearth any potential sales crediting issues. A contemporary version of the classic "time and motion" study – that is, an analysis of the time people spend going through the different motions of a job – is also called for. This will help determine how much time should be allocated to perform different activities, starting by looking at present-day findings on where salespeople spend their time, and comparing that to the desired future state.
Furthermore, new rules of engagement for the salesforce will be needed to ensure that accounts are approached strategically and effectively. Creating sales competency models helps by laying out the "soft skills" for how salespeople should perform against the sales competencies in order to determine what sort of training the sales staff needs and what kind of personalities should be targeted in hiring.
Through this approach, a multinational producer of health, hygiene, and nutrition products was able to improve its channel strategy after it decided that it needed to bolster its sales presence in the institutional channel, which represented a potential $50 million market for the company. The business faced several constraints, including barriers to access or influence physicians in institutional settings. They needed guidance identifying which hospitals and other institutions to prioritize as sales targets. Its previous segmentation effort had also left it with overlapping sales territories and resultant minimally differentiated targets and product offerings.
The channel redesign included a new institutional channel and corresponding role to service it, giving the company hundreds of potentially lucrative hospital networks to target that offered the possibility of significant unit price improvements compared to existing channels. High-achieving sales reps also had an established opportunity to pursue a new career path as an alternative to the traditional management track. These strategies resulted in the company keeping some of its best sales talent focused on sales.
Staying Ahead of the Competition
Because companies are constantly changing their buying behaviors and the competitive landscape is continually shifting, failing to keep sales strategies and skills up to date opens the doors to competitors, who may win through superior sales processes.
Because it brings significant changes to the salesforce, a planned approach is needed to introduce a new channel strategy. A top-down approach to get buy-in from sales leadership is called for. It should emphasize the need for the change in terms of the competitive landscape, along with the benefits brought by the new way of working in terms of improved career prospects for those in sales.
Supporting processes and safeguards are a must, along with preparation and training to ensure that people will be effective in their new roles. Ultimately, it's about learning as you go and being both flexible and patient as the change institutes genuine, lasting improvement.
Get our newsletter and digital focus reports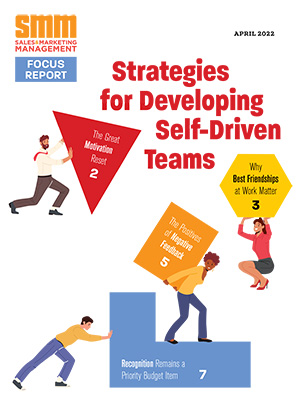 Stay current on learning and development trends, best practices, research, new products and technologies, case studies and much more.