If you think it's challenging to onboard new hires who are intent on becoming top salespeople, try generating excitement about developing a prospect funnel, nurturing leads, tracking progress and knowing how to close to a professional cohort that has no interest in sales.
Shavon Jones has turned that challenge into a business. She is the founder of Sales for Lawyers, a sales coaching consultancy that aims to turn attorneys into rainmakers by teaching them how to spot opportunities, generate new business through referrals and learn how to convert inquiries into paying clients. Jones' attorney pupils are not only frequently hesitant to accept that selling is part of their role, they also are, on the whole, notoriously adverse to embracing technology.
Jones, an an attorney herself who continues to practice administrative law, launched Sales for Lawyers in 2019 after writing a book of the same name.
"I interviewed a leading real estate developer about what he wanted to see from lawyers and I realized he wasn't getting any of it," she said. "I wanted to teach law firms to be less paternalistic to young people coming in and more client- focused."
She initially offered multiple-day, in-person workshops from her Miami home base, but transitioned to e-learning when COVID cut off business travel and in-person training. That opened the door to global customers, which she says now constitute a significant percentage of her clientele. She focuses on legal services because she is a lawyer, but she said her training could be applicable for any professional service.
Her Rainmakers e-curriculum covers everything from branding and market awareness to fee negotiation and dealing with competitors. There is also a section on using sales technology, which Jones said trains lawyers on the basics of CRM, Bloomberg Law's customer technology platform and other software tailored to the legal industry.
Convincing lawyers to embrace technology can be difficult. According to an annual survey of in-house general counsel attorneys coordinated by Ari Kaplan Advisors, a legal industry analyst, 67% of GCs polled in 2021 believe that attorneys do not have adequate technical competence. That's up from 45% who felt attorneys were not technically competent in 2020!
Jones' explanation why technological proficiency is getting worse, not better, in her profession should serve as a cautionary tale for leaders in all industries. It starts with a lack of proper training on new technology. "You shouldn't rely on your team to explore and figure out the features, especially if they have an existing system they don't view as being broken," Jones said. "Salespeople would rather spend their time generating commissions instead of learning and migrating onto new technologies.
"Whenever you buy software, it should come with a training component as part of the price. If that's not the case, there should be someone internally at a large firm who is responsible for training."
Jones recommends accompanying any training — tech- oriented or otherwise — with something fun. It's not a big leap from "Sesame Street" to corporate training, she said.
"If I'm teaching business development, I may also bring in a corporate stylist to stage a mini fashion show. Attorneys have fun seeing how they can spruce up their wardrobe and still look professional. They get excited about the rest of what they take in. You have to figure out what you can do to make your people more interested in what you want them to learn."
Get our newsletter and digital focus reports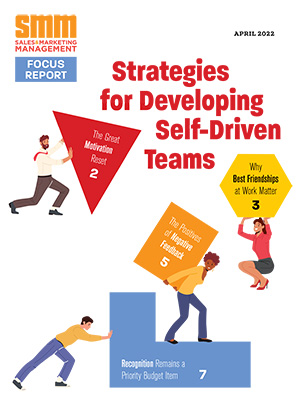 Stay current on learning and development trends, best practices, research, new products and technologies, case studies and much more.