At the same time that businesses embrace technology that allows them to connect wirelessly, sell remotely and send marketing content automatically to prospects based on expressed interests, many of them also continue to cling to the timeless tactic of trade show marketing.
The death of trade shows has been forecasted since the days of dial-up modems, but whenever budgeting time rolls around, many companies are hesitant to cut exhibiting out of the mix. Some companies are confident that trade shows remain a crucial lead generator, while others continue to exhibit because they're afraid what message they would send if they didn't.
We asked Sales & Marketing Management readers as well as visitors to the website HelpAReporterOut.com what value they see in trade shows and what steps they have taken as a result. Here is some of what we heard; more responses can be found online at SalesandMarketing.com. Look for the link in our Additional Web Resources box.
Great for up-and-comers
Our company is No. 3 in market share in our industry, so we are more of an upstart. Trade shows are therefore a larger part of the overall marketing effort. We definitely look at trade shows as real sales opportunities — not everyone in our market knows us well. Also, for the past two years, we have been introducing new products on a regular basis, so we have something new to show customers. We measure our ROI and find that if we have new products and in some cases new vertical markets where we are introducing the company as a whole, trade shows are a good way to increase market share and sales.
• Bob Randall, Vice President, Staging Concepts, Minneapolis
Where the fish are
We've always looked at trade shows in our channel as a mission-critical element in our outreach. I can think of no better way to spend my time and financial resources than a concentrated period of time in which I am able to visit with our key customers and develop new prospects "on my turf." A serious trade show initiative will drive significant costs and suck up an amazing amount of resources. You'll learn more about logistics than you ever wanted to know and you may think you are making a deal with the devil at times. (We rented a wastebasket for three days and it cost us $68? What the heck is drayage anyway?) But, if you add up the quantity and quality of focused conversations that you had during the show, you'll most likely be hard pressed to match that making physical customer visits. There is really nothing like having a series of pre-qualified customers face-to-face in your booth, with your product/service present, in uninterrupted, focused conversations about how you can work together in the future. In the spirit of "fishing where the fish are," trade shows offer a very high degree of value.
• Mike Landry, Vice President of Special Markets, Tumi
We went DIY
Trade show expenses have gotten outrageous. By the time you account for travel, accommodations, collateral, incentives, display, freight, staff per diems, space rental (and all the add-on expenses like electricity and extra chairs), you can only hope to break even. Nowadays it feels like attendees just want to see what's out there (and enter drawings or get free stuff )—they're collecting information so they can check you out online later, not looking to buy on the spot…if that's a goal. That doesn't mean we kicked in-person engagement to the curb. Instead, we conduct our own regional live training events to give our prospects value and promote our products and services at these events. We are able to control the costs, gain better exposure to our specific audience in the areas we targeted for growth and the likelihood of an on-site close is measurably higher.
• Susan Nicholas, Marketing Director, The Mike Ferry Organization
Swapping crowds for 1-on-1
We stopped doing them several years ago. Fun to attend, but no sales to show for the expense. Our biggest challenge was that at every show, seven or more of our competitors were there. The client/prospect was getting hammered on every aisle with a bigger and better promise (or better giveaways). We now spend those dollars on getting in front of people one on one. Our sales are UP!
• Steve Berryman, Regional VP, National Accounts, Jones Sign
We've shifted our budget
We looked at how much money it cost our company to attend a trade show and the return on investment it generated, and decided upon an alternative route. We started to invest the money strategically in pay-perclick advertising and search engine optimization, our main areas of expertise. Being able to invest an additional $10,000 into pay-per-click advertising brought so much new traffic to our site and allowed for us to capture more leads than attending any trade show.
• Jason Parks, Owner, The Media Captain
A hard habit to break
I am the marketing director for a creator of natural, organic and vegan cosmetics. As I respond to your query, we are gearing up for [a national industry trade show] that takes a large chunk out of our marketing budget and we are not seeing any ROI from participating for the last three years. However, every one of our competitors still attends and so we believe if we don't go, it will be perceived as a fail on our part. I don't believe that trade shows are still relevant. I think it is much more effective to go direct to the media and to retailers. It is less expensive to fly to them and schedule an appointment.
• Madeline Johnson, CEO, Madeline Johnson Marketing and Public Relations
Dwindling results have us reconsidering
My boss and I constantly talk about whether or not we should still be attending trade shows. While we both agree that the monetary value of trade shows is dying, we also think they are still important to our business. Over the last five years, we have noticed that attendance for both exhibitors and attendees at the one major show we have attended every year is dwindling. We used to be able to at least break even; now, we definitely eat some losses. The reason we still go is because we think it is important to have a physical presence in front of our peers and potential customers. It's almost impossible to quantify the importance of trade shows because outside of hard sales, you can never know just how impactful they are. Ultimately, it comes down to a gut feeling and the understanding that if we didn't go, we would regret it.
• Steven Levine, Digital Marketing Manager, Jam Paper & Envelope
Meeting prospects still matters most
As the B2B marketing landscape continues to shift, it can be difficult for marketers to know how to best allocate their resources. Which older tactics no longer work, and which have staying power? Which newer tactics are fads, and which already produce tangible results?
To shed light on these questions, Software Advice (SoftwareAdvice.com), a customer relationship management software consultant, surveyed 200 business-to-business marketing professionals to get a better understanding of which channels, offers, content types and technologies they were using to fuel their demand generation programs – and which they found most effective.
B2B marketers were asked to rate the relative quantity and quality of leads generated through a range of channels. Trade shows were most commonly cited as generating both the most and the best: 77 percent of marketers said they generated a "somewhat" or "very high" quantity of leads, and 82 percent said they generated leads of "good" or "excellent" quality.
According to Michele Linn, content development director at the Content Marketing Institute (ContentMarketingInstitute.com), this makes sense. "[Trade shows] are always the tactic that marketers rate as the most effective," she says. "In the digital age, where so much stuff is online, there's something exceptionally powerful about doing in-person events – if done well."
It's all about who you send
The truth is most exhibits suck and companies waste money by [exhibiting]. Why? Simple: people are far too dependent on marketing materials, backdrops and product displays, and they forget about the primary purpose of being at a trade show. It's all about building, developing and nourishing relationships. The days of "if you build it, they will come" are long gone. To make tradeshows worth the investment, send your top people who know about your goods/services, but more importantly, know how to engage customers and build relationships. These people never sit down and always attract people to the booth by their first name and eye contact. I attend, work and hustle at more than 15 tradeshows each year and help grow my business 30 percent annually.
• Cliff Budnick, Vice President of New Business Development, In-O-Vate Dryer Products
Exposure to serious buyers
Because trade shows allow you to deal with a real person, B2B buyers enter with the expectation that they will need to provide detailed contact information. When buyers provide more in-depth information, it results in higherquality leads.
• Craig Borowski, CRM Market Research Associate, Software Advice
Reconsider how you define value
There is still value in meeting face-to-face with prospective buyers at a trade show as long as one is very selective and doesn't sign up as a "platinum sponsor" of every event. Also, if you look at trade shows as purely lead generation vehicles then you are probably going to be disappointed. I don't necessarily judge the value of a show purely by how well it performs in terms of generating leads. There are other success factors one should consider when evaluating a show, such as its ability to help increase market awareness, influence analysts/reporters in attendance, or meet with existing customers to help further strengthen those relationships. These things won't show up in the lead report.
• Tedd Rodman, Yottaa
Leave your booth at home
I've often been struck by the fact that trade show exhibitors are stuck behind their booths while much of the interaction that takes place at these events occurs elsewhere. Often, attendees avoid stopping at booths because they don't want the sales pitch. Those that do stop tend to be those already engaged with/familiar with that organization. More meaningful and far less expensive connections seem to be made over beverages/food in the exhibit hall during and after sessions, at receptions, etc. Simply being there and interacting with those present can generate the same value, if not better, than investing full bore in developing and staffing an exhibit.
• Linda Pophal, Strategic Communications, LLC
Going, but redirecting spend
We are a service provider and offer consultant support and business advice to the veterinary industry. This year, we have decided not to have a stand at the largest trade show in the UK, but instead attend the show and spend time at all of our affinity partners' stands. The reasoning: we have the same customers and want the same outcome for them—to give excellent customer care and a quality service. We had the choice of paying for a stand or spending that money on hospitality throughout the event, giving us more time in a more relaxed atmosphere to actually conduct business rather than make small talk whilst being bustled around. Our hospitality is available to our affinity partners also as a thank-you for allowing us to spend time in their stands. Working together is the key to the future, always stronger in numbers!
• Janet Hughes, National Sales Manager, Denplan Ltd.
Follow your leads
Companies have varying degrees of confidence in the quality of the leads they collect at trade shows. Yet nothing makes less sense than investing thousands of dollars in exhibiting and not following up on your leads. We heard this from a trade show attendee who responded to our survey:
"As a buyer, trade shows are only of value if there are buying opportunities presented. Too few times, the meet-and-greet generates a few post-show calls, but 90 percent give up. Companies spend thousands to meet me and within six weeks, it either happened or they stop calling."
Get our newsletter and digital focus reports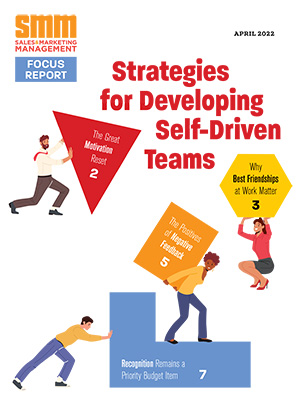 Stay current on learning and development trends, best practices, research, new products and technologies, case studies and much more.