Search Engine Optimization (SEO) and social media are vital for any B2B brand trying to reach its target audience. Admittedly, most brands already have a strategy for both.
However, there has always been the question of whether social media influences SEO. In other words, do your social media marketing efforts affect how high you rank on organic search results?
Right off the bat, we can tell you that social media is not a ranking factor. At least not a direct one. However, social activities can influence your search engine rankings indirectly.
This article explores the complex relationship between social media and SEO. We'll tell you why even though social media is not a ranking factor, you still need to pay attention to "social SEO."
Let's kick things off with definitions:
What is 'Social SEO?'
Social SEO or social media SEO can be explained as the belief that social media activities such as social shares, likes and comments affect organic SEO results. In other words, some marketers believe that social signals like comments and shares can help you rank higher on search engines.
Is that true, though? Well, there is no direct answer to this. Even Google personnel have been on record contradicting themselves regarding the issue.
However, there are a few things we're sure about. One is that social media links are no-follow. Therefore, they do not pass any link juice, so you cannot count them as valuable backlinks.
That said, several social media activities can influence your search rankings indirectly.
How Does Social Media Impact SEO?
One of the biggest benefits of social media is the exposure it gives brands. With millions of active daily users, social media allows you to showcase your brand and its offerings to a vast pool of potential customers. Not only that, but you also get to expose your business to other brands. And that's where things get interesting.
As more brands get exposed to your content, the chances of landing backlinks and brand partnerships increase. Of course, this only happens if you are sharing valuable content.
Other brands will see your social content, and some will want to share it with their audiences. That means they'll be more likely to link to it from their own websites. This gives you backlinks that can actually move the needle to boost your rankings.
We've seen this happen multiple times before. Take the case of Misguided, for example. The UK brand created a campaign on matching outfits for dogs and owners. They popularized the campaign through social media, and other brands, including major news sites, loved it. So they started discussing it on their platforms.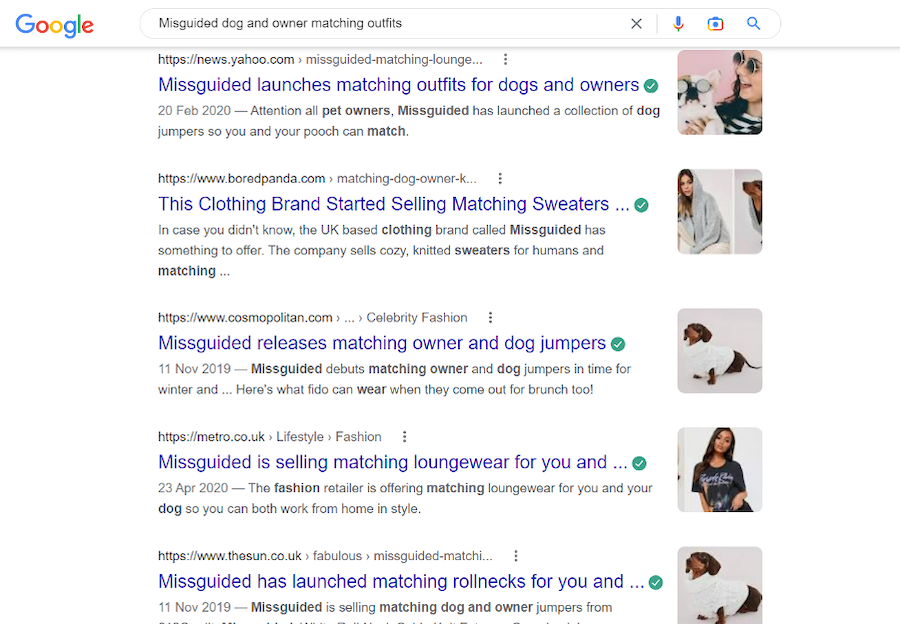 This earned them a considerable number of backlinks from sites with high domain authority.
This is only one way social media SEO can boost your organic search rankings. Let's discuss three more benefits below.
3 Benefits of Social SEO for Your B2B Business
Besides brand exposure, social media SEO can benefit your business in the following ways:
Increase Website Traffic – A robust social media campaign will drive more traffic to your website. Twitter, LinkedIn, Pinterest and Facebook are examples of sites that allow you to include links in your posts. With this feature, you can use organic social media posts to direct more people to your website.
That said, don't stick to regular posts + links. You can make things more interesting with other features to engage more users.
For example, you can use Twitter threads to educate your users about the subject before including the link to your website in the last tweet. And here is a fun fact, Twitter threads get more reach and impressions than a single tweet with a link. No wonder major brands and personalities are doubling down on Twitter threads.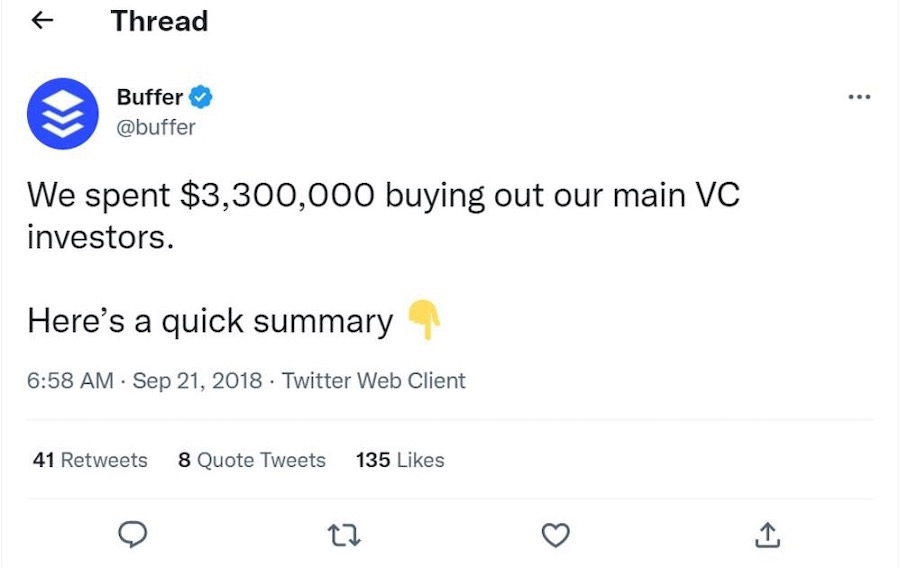 You can also use Instagram and Twitter polls to ask questions before directing users to your website. For example, if you researched a particular subject, you may throw out a poll on Instagram stories, Twitter and other social platforms, asking users to predict the outcome. Then, provide the answer in subsequent posts with a link to the full study. You can use the Instagram link feature for stories to add links.
This technique engages users, helping you get more Instagram followers and direct even more traffic to your site. In addition, it familiarizes the audience with your brand. This can increase direct traffic, which is a ranking factor. It may also boost branded searches due to increased brand awareness.
Enhance Brand Authority – Social media platforms can help you build brand authority. By sharing thought leadership content, more of your followers and other brands will see you as an authority in your industry.
For example, you can share content on some of the studies you've conducted. You can also partner with other major players in the industry. This cements your brand authority over time, which is good for your SEO strategy.
Since other bloggers see you as a leader, they'll be more likely to link to your content pieces. Customers, too, will start visiting your website directly every time they need information or services related to your industry. That's the power of building a great brand, and social networks can help you with that.
Understand Your Customers Better – Finally, social media channels can help you understand your customers better. This is achieved through everyday interactions with your customers on social media. Social listening with tools like Hootsuite can also give you deeper insights into your target audience.
In the end, you'll know what makes your customers tick. That allows you to create and share content that will resonate with them. You'll also know how to enhance your products and customer experience.
In addition to boosting the customer experience and increasing sales, you'll be able to combat bounce rates and increase dwell time. These are all critical for your SEO.
The relationship between social media and SEO is complex at best, but you shouldn't overlook it. Social media may not be a direct ranking factor, but it can help you secure backlinks, increase branded searches, boost direct traffic and secure collaborations with other major brands.
It's time to look at your social media strategy from a broader perspective. It's not just about building brand awareness and increasing sales. You also want to create pieces of content that will draw other brands to you and support your SEO efforts.