As a B2B sales manager, creating a winning environment is crucial for success. To truly excel, you must master the skills to empower your team and create a culture that consistently leads to high performance. The best sales managers consistently do several things right. They:
Hire talented people who will outperform their goals with support.
Motivate the team to achieve top performance every day.
Focus everybody's energy on the right priorities and actions.
Execute top priorities with exceptional skill.
Build highly productive teams that get the most out of their working time.
In short, you need to help sellers reach the top – to win more sales, grow more accounts, build more pipelines, and succeed overall. When this happens, you'll see more than measurable results. You'll gain the respect and confidence of your team.
In a major study, the RAIN Group Center for Sales Research found that top-performing sellers are 83% more likely to agree that their manager was very or extremely effective in helping them achieve top performance. Let's take a closer look at all that goes into that effort.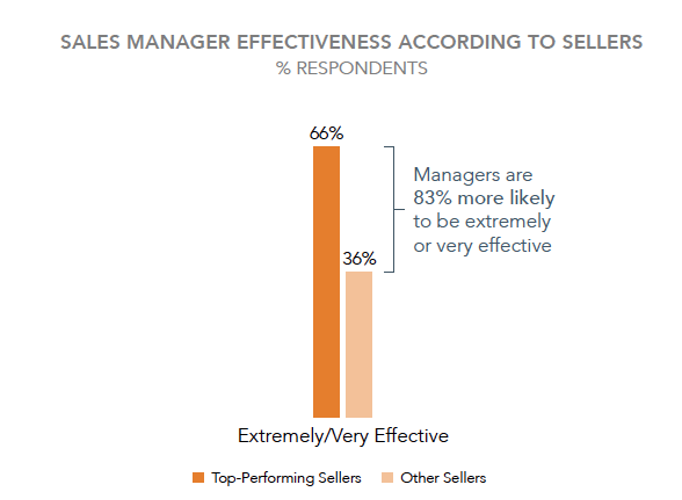 Becoming a Top-Performing Sales Manager
What does the top-performing sales manager do differently? How do they approach sales management systematically and confidently? And how do they know they're positioning their teams for top performance?
First and foremost, the best sales managers have a specific plan for what they are going to do to get top performance out of their teams. They go beyond talking about it; they:
Write a concrete plan.
Review it with peers.
Formalize the plan.
As part of that effort, sales managers establish a consistent cadence with their sellers. They interact with each team member regularly, both 1-on-1 and in groups. When those meetings happen, the best sales managers know how to lead masterful sales management and coaching conversations.
Finally, the best sales managers excel in 10 core roles outlined in The Top-Performing Sales Manager model (graphic below). What follows is a deeper dive into each.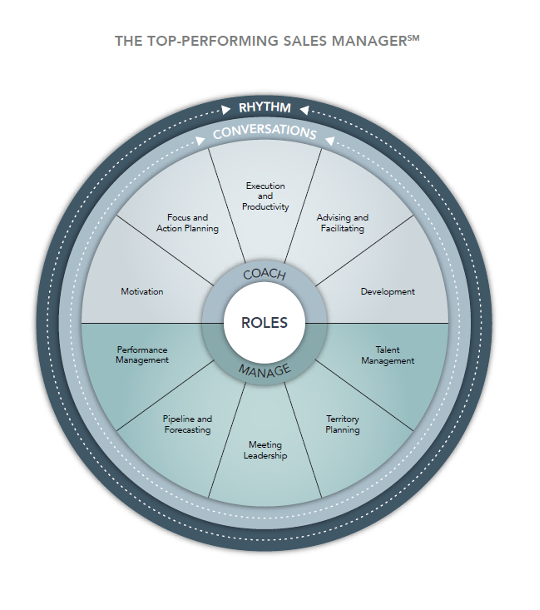 Be an Expert in the 5 Coaching Roles
Look at the top half of the model above. You'll see the five coaching roles a top-performing sales manager must master. They are:
1. Motivation
This is the No. 1 skill of top-performing managers. Without ongoing motivation, which goes beyond bonus compensation and team recognition, sellers will underperform (or leave).
2. Focus and Action Planning
You must do more than tell people what to do. Top-performing sales managers are 41% more likely to excel at helping sellers build meaningful goals and action plans.
3. Execution and Productivity
You can't get wasted time back. That's why top-performing sellers are more likely to be highly rated in all major productivity areas. And top-performing managers are 71% more likely to be effective at motivating sellers for high productivity and performance.
4. Advising and Facilitating
Teams need more than what; they need how. Top-performing sales managers are more likely to excel at coaching sellers to: lead great sales conversations (52%); win sales opportunities (45%); grow accounts (47%); and fill the pipeline (30%).
5. Development
Not every seller is born a top performer. And not all top performers are always at their best. This is why development is the #1 driver of sales manager effectiveness. Development means 1.) identifying where sellers can improve; 2.) facilitating plans to develop the skills, knowledge, and habits they need; and 3.) developing those capabilities.
Command the Five Managing Roles
Now review the bottom half of the model. There you'll find the five managing roles of a top-performing sales manager, as follows:
1. Performance Management
Invest as much time as you can toward performance analysis, acceleration, and remediation. Top-performing sellers are 83% more likely to report their managers are very or extremely effective at helping them achieve strong performance.
2. Pipeline and Forecasting
Top-performing sales managers are 52% more likely to excel at planning and analyzing how sellers should manage their pipelines. They forecast with accuracy and deliver exceptional reporting and communication. Their sellers build strong pipelines that withstand stress testing.
3. Meeting Leadership
Top-performing sales managers are 42% more likely to excel at leading valuable sales meetings. Be excellent when it comes to organization and agenda setting, leading and facilitating, and accountability. Your sellers will respond.
4. Territory Planning
Top-performing sales managers are 52% more likely to excel at planning and analyzing how sellers should manage their territories. Territory Planning includes territory plan development and target setting, as well as tracking and adjusting. Top performers keep plans actionable and relevant while making updates as conditions change.
5. Talent Management
You've got to find the right people. Talent management includes recruiting sellers to your team and onboarding successfully. Indeed, Top Performers are 42% more likely to excel at hiring sellers who become top performers.
It's Not Easy, But That's the Point
One last note about the 10 roles I've detailed above. Notice the two outer rings circling the wheel in the model: rhythm and conversations. Top-performing sales managers maintain a consistent rhythm in their conversations and coaching with their team – and they continuously go round and round the wheel, executing their roles, iterating, and improving.
It's like a flywheel that gets more efficient and accurate the more consistently you spin it. For some, it takes a lot to get going, but that's the point: you need a different set of capabilities to succeed as a sales manager than you did as a seller.
The RAIN Group Top-Performing Sales Manager model can be your guide.