The voices that are featured at a sales kickoff will affect its impact and memorability. One voice that companies rarely include in an SKO agenda is their customer's. They are missing a hugely impactful opportunity, says Tim Riesterer, chief strategy officer at Corporate Visions, a provider of revenue growth strategies.
Sales leaders use kickoffs to address perceived weaknesses in their sales process. They may even ask for sales reps' thoughts on why some opportunities weren't closed and what skills need to be improved.
The problem, Riesterer says, is that relying only on internal perspectives and assumptions leaves critical blind spots in a sales team's understanding of performance gaps. Corporate Visions stresses the importance of listening to buyers, including those that went with a different supplier. In fact, the company's guide to sales kickoffs is subtitled "Transforming Buyer Insights Into Sales Impact."
"Buyer feedback from thousands of deals shows that the reasons your sellers give for winning or losing deals are different from what your buyers say most of the time," Riesterer says. "When a seller marks a deal as lost, they tend to cite external factors like pricing or product gaps. But buyers tell a very different story, pointing to things like misaligned needs discovery, poor differentiation, and lack of interest from the rep in fulfilling requests."
A software company enlisted Corporate Visions' assistance to turn around declining win rates. Their sellers had been performing well and it wasn't clear why some deals weren't closing. When they looked at buyer feedback collected with help from Corporate Visions, they discovered scores on their negotiation skills — one of eight skills measured — lagged the competition.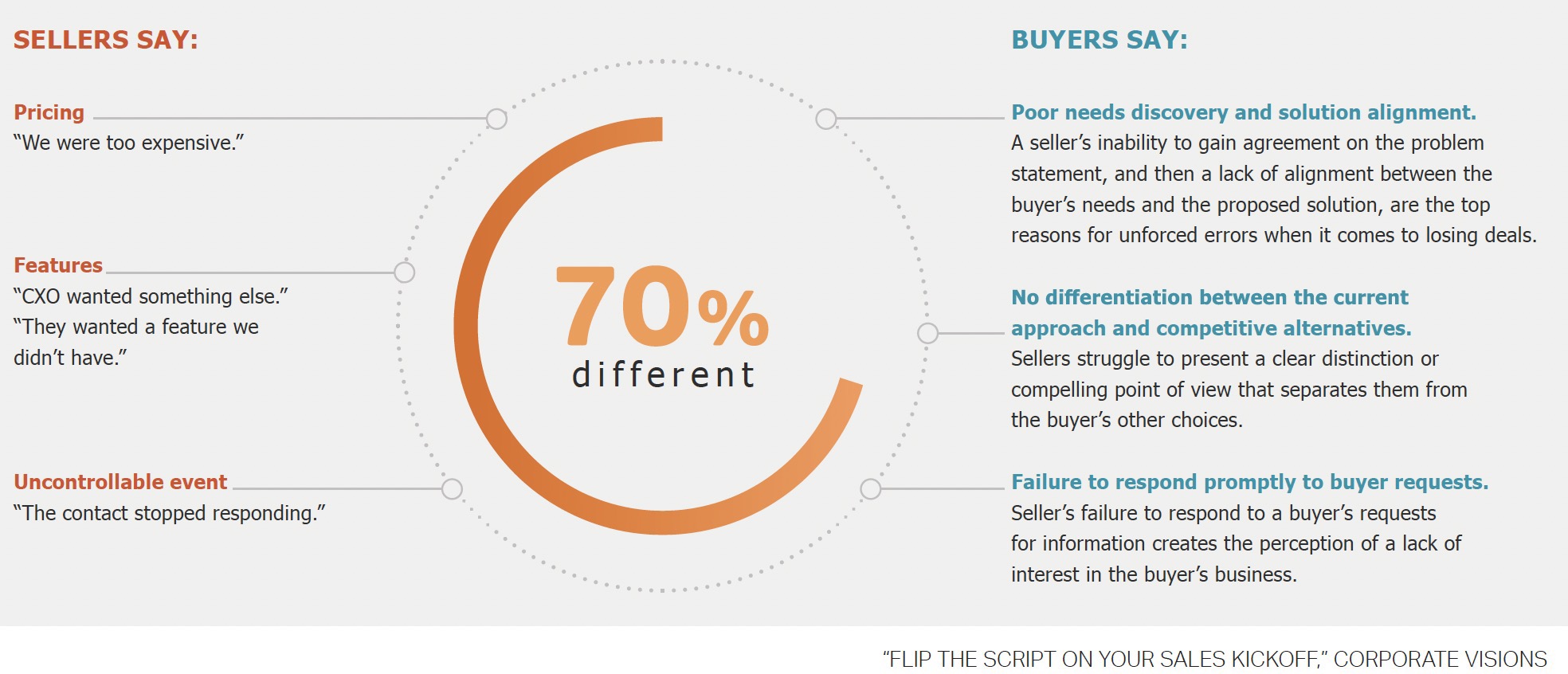 Armed with this previously unseen insight, the company completely restructured their upcoming sales kickoff to focus on creative negotiation skills.
Corporate Visions acquired a company early this year called Primary Intelligence that has the tools to collect these customer insights. Riesterer said he supports the concept of engaging sales leaders in the content creation for an SKO, but companies need to be aware that even sales leaders can have misguided beliefs.
"We didn't know that reps are wrong/give different answers 50 to 70% of the time regarding why they win or lose when you compare it to feedback from customers," Riesterer said in an email exchange. "Our tune is evolving to saying that customer feedback is the most trustworthy source when you get enough of it at scale. Sharing insights gathered from the previous year in aggregate and showcasing certain deals as examples may be the more accurate way to do it."
According to the Corporate Visions kickoff guide, when a kickoff directly addresses buyer-identified skill gaps, the training resonates more. Sellers become invested because they see the tangible impact these skills have on deals. And when sellers feel the relevance, it boosts adoption of the new techniques.
Get our newsletter and digital focus reports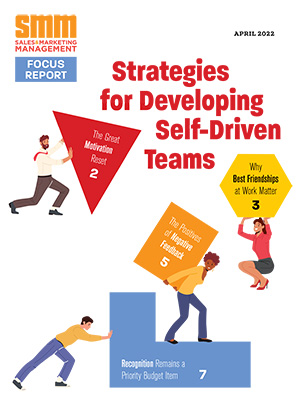 Stay current on learning and development trends, best practices, research, new products and technologies, case studies and much more.