When Blue Cross and Blue Shield of Minnesota was failing to close some sales that were in the late stages, they enlisted help from Minneapolis-based Schermer, a B2B marketing agency that focuses on creating better buying experiences. As founder and CEO Chris Schermer explains it, his company assessed the buying journey that the insurance provider's sales reps were providing prospects and began to make changes.
"We looked at the type of information that large enterprise prospects would need to choose benefits for their organization," Schermer said. "We showed them what the buyer journey looked like for many personas in a single prospect company. We researched the touchpoints that [buying team members] were having to find information – touchpoints that were needed to influence the prospects at the right time."
Schermer's team created new digital experiences for the prospective buyers, an approach that ultimately yielded a "tremendous amount of new revenue" for Blue Cross and Blue Shield. "Our effort was recognized by the client as their marketing innovation of the year," he said.
Analyzing the buying experience, developing more accurate buying personas and creating more effective touchpoints are all components of a holistic strategy that is collectively referred to these days as sales enablement. However, Schermer didn't produce these results with the comprehensive, AI-driven sales enablement software platforms that have become table stakes for B2B companies. It's a case study from nearly a decade ago.
Evolution of Sales Enablement
Sales enablement is the strategic, ongoing process of equipping sales teams with the content, guidance and training they need to effectively engage buyers, according to Highspot, a provider of sales enablement tools. It has existed in one form or another for nearly as long as sales itself.
Use of the term today frequently conjures up the software platforms that comprise B2B sales and marketing teams' tech stacks. Those we spoke with for this report, however, emphasize that sales enablement is much more than software. Sales enablement has taken on such importance for developing go-to-market strategies that it is a separate division in many companies. The number of LinkedIn users with sales enablement in their current job title has increased five-fold since 2015, according to Paul Krajewski, an Australian-based sales enablement professional who tracks the industry. He estimates it will be a $10 billion market in annual revenue in 2023.
"It's important to separate the discipline of enablement from the department carrying enablement in its name," said Jillian Maiorino, sales enablement manager for Vendr, a Boston-based company that helps companies buy, manage and renew the software as a service (SaaS) they use. Maiorino plays a role in Vendr's onboarding, ongoing training, sales methodology rollouts and everything else that is tied to increasing revenue at the company.
"At the highest level, the key objective for enablement is to knock down the wave of information that is coming at sales. Our goal is to create an environment in which they can swim out into all the content that is coming at them and easily grab what they need and remove the friction as much as possible."
At RocketPlan, a provider of project management software for property restoration contractors, sales enablement is under the guidance of Kevin Grzybowski. He started in a consulting role with the company late last year before joining the company as its chief revenue officer. Founded in 2020 by the owners of a restoration company, the Vancouver, B.C., company expects to double its internal sales team to 10 reps by the end of this year.
Grzybowski said RocketPlan had a substantial tech stack in place when he began working with them that included Hubspot, Intercom and Stripe. "They built a smart infrastructure of tools to support the growth of their business. I was to take the kernel of happy customers and replicate it to find more customers," he said.
To get a better handle on what sales enablement is, where it's been and where it's headed, it's best to answer some frequently asked questions.
What is sales enablement?
In short, sales enablement is the process of providing salespeople whatever they need to engage their target buyers. As a report from Salesforce states, with sales professionals reporting their job has become more consultative and less transactional, reps need to "better understand the product, the customer and the market more deeply so they bring more value to each conversation."
Gartner states that sales enablement is about providing sales professionals the information that helps convert qualified leads into signed contracts. Gartner groups this information into two categories: content that sales provides to the buyer, and best practices, research and tools that sales consumes internally.
Technology has become a key component of sales enablement, but it's also still very much the people and the processes behind running a revenue engine, those we spoke with emphasized.
"It's a philosophy; it's a strategy; it's the approach of an organization. Technology is helping to streamline and enable that, but it would be wrong to pigeonhole sales enablement as primarily technology," said Chris Schermer.
"It starts at the most basic element of defining the ideal customer profile (ICP), then determining what are the most effective ways of reaching them," added Gryzbowski. "When you connect with that potential buyer, what steps do you take them through? How do they move through your sales function?"
Ideally, sales enablement boosts the performance of middling and low-performing reps. According to Gartner, one sales enablement best practice is to designate overachievers as leaders/teachers of the program.
Who owns sales enablement?
While more companies are creating sales enablement positions and even whole departments, ownership of sales enablement is the wrong question in many respects. Those we spoke with said sales enablement requires a holistic approach that involves the entire company, à la Daniel Pink's "we're all in sales" philosophy.
"If you look at the ways that sales and marketing can align, sales enablement, revenue enablement and, eventually, business enablement is the one place that you can actually align sales and marketing. I think that's one of the most powerful things we've seen," said Patrick Welch, president of Bigtincan, a sales enablement solution provider.
Because sales enablement involves onboarding, HR touches it. Because it includes continued training, your skills develop- ment personnel are involved. Because it impacts revenue, a chief revenue officer has an important role to play. As mentioned, technology is increasingly important to sales enablement, which means IT is part of the process.
Welch envisions the concept transitioning to business enablement and not being sales centric. It already encompasses more than identifying and engaging prospects. Sales enablement must include relationship building with existing customers, he said.
"You can't just look at the buying journey. It's the whole customer journey. If you just look at the buying side, you forget about the customer side. How does that experience get created when so many people are touching the customer? How do you go from a sales and revenue strategy to a business enablement strategy where you are enabling all the folks that create the experience for the customer? There isn't a space called business enablement yet, but it could be the term five or 10 years from now," Welch said.
What tools are necessary for effective sales enablement?
Undoubtedly, technology plays a vital role in sales enablement. The market is loaded with sales enablement software.
Understanding your sales methodology and your buyers' journey is key to identifying what sales enablement tools make sense for you.
Allaya Cooks-Campbell, a learning and development strategist at the coaching platform BetterUp, writes in a blog  post that the data you need to track, integration with your current CRM and ease of use are factors to consider when determining what sales enablement technology to adopt.
Highspot has a nine-step process for selecting the right sales  enablement solution that includes ensuring scalability, confirming cross-team workflows and reviewing the mobile experience. (See graphic on steps to implement effective sales enablement below.)
What metrics should be measured to assess sales enablement ROI?
The obvious answer is sales, but there are numerous other metrics that can be tracked to gauge the success of sales enablement. These include:
Time to first sale (ramp time)
Sales cycle length
Win rate
Number of reps achieving quota
Average deal size
Both qualitative and quantitative metrics should be measured, Maiorino stressed. She meets weekly with her company's sales directors to review what they are hearing from their 50-plus reps about the challenges they're encountering and gaps that exist regarding information and tools.
Artificial intelligence (AI) that didn't exist as recently as two or three years ago is proving to be a data-collecting game- changer, said Chris Cabrera, founder and CEO of Xactly, which offers SaaS that allows companies to track sales performance management, sales effectiveness, sales compensation and employee engagement.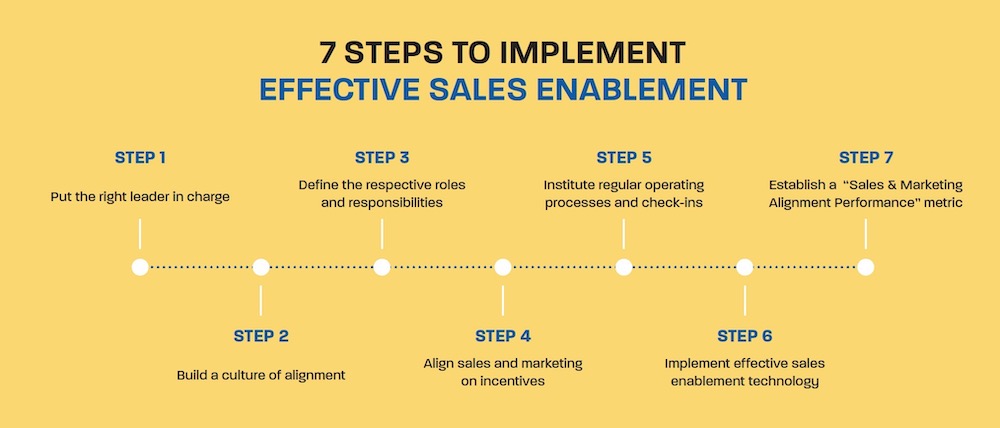 "AI looks for pattern recognition that humans can't find," Cabrera said. "For example, how does a deal that a rep says is near closing match the patterns of deals that have closed historically? If it doesn't match, AI helps feed that back to the rep with information that it doesn't match the pattern for these three reasons and that rep can go fix those. That's really powerful and couldn't be done a couple years ago."
In a Highspot podcast episode, Stacey Justice, vice president of revenue enablement at HashiCorp said, "enablement should be one of the most, if not the most, cross-functionally collaborative teams in the business. I've seen it where systems have just been rolled out to the teams and it's just not done optimally from the beginning, so it becomes a mess at the end and not optimized, not adopted and it's just wasting time. It's a matter of prioritizing both the systems and the work that you want your teams to do and recognizing that systems take work."
What's next for sales enablement?
We've shared Welch's prediction for a shift to business enablement. "Whereas, sales and revenue enablement connote focus on sales productivity and sales training, business enablement puts less focus on sales and more focus on the whole ecosystem that touches the customer and serving customers at a higher level," he states in a blog post.
The traditional KPIs of sales success will always be relevant. However, Welch said the shift to business enablement will call for increased focus on customer engagement with sales and customer success content, as well as heightened awareness and measurement of customer satisfaction, including net promoter scores (NPS) and customer reviews.
"Companies can embrace true business enablement by preparing and upskilling the entire ecosystem that touches the customer. That means leveraging the power of all the resource touchpoints starting with sales and marketing, continuing to customer success, and all the way through to account managers and channel partners," Welch states.
It's clear that sales enablement is a vital revenue generator that's here to stay. Every year, Gartner asks chief sales officers what their top priorities are. While there were no surprises in 2022, it's notable that the top answers were all objectives that sales enablement assists with:
Improving pipeline creation
Identifying, nurturing and growing key accounts
Driving growth through smarter account management
Increasing sales manager focus for maximum impact
B2B purchase decisions are increasingly made by buying teams, yet these teams' participants expect to be treated as individuals with unique interests. Sales enablement is all about adding customer value. As Mediafly reports, 74% of buyers choose the vendor that first adds value. Also, when buyers understand the business value of your offer, deals close faster and at higher average order values.
The complexity of B2B sales requires the AI-driven capabilities of sophisticated sales enablement platforms. Insights that could never be collected without today's technology optimize marketing strategies and trigger the right steps to take at precisely the right time.
Cabrera is excited to be part of what he sees as a technology revolution, which he views as a key reason to commit to the sales enablement movement.
"We're in an exciting time like I've never seen in my 34-year career. The technology is always changing, but it seems like we're in a period where it's leap-frogging, allowing a dramatic amount of change in a short period of time," he said. "If sales leaders and CEOs don't jump on board and figure this stuff out, they're going to be at a decided disadvantage."
Get our newsletter and digital focus reports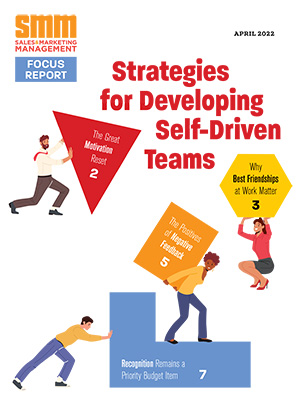 Stay current on learning and development trends, best practices, research, new products and technologies, case studies and much more.