Home
Creating a Coachable Culture
Creating a Coachable Culture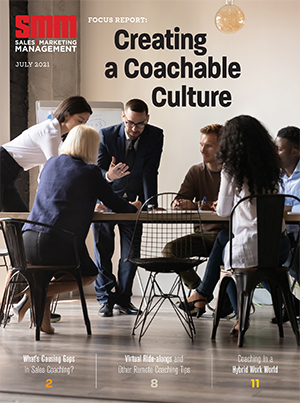 July 2021
View Downloadable Edition
One of the best ways company leaders can instill a coaching culture is to engage a coach (or coaches) for themselves.
Technology-driven training, including artificial intelligence training tools, can help overburdened sales managers keep training in the mix.
Managing remote employees — especially a remote sales team — isn't easy. Here's how one company used existing remote team management experience to take the rest of its sales staffers remote and set them up for long-term success.
Remote role playing and self-evaluation are among the author's three steps for more effective virtual coaching.
Many companies profess to make coaching and skills training a priority, but how many actually do? A recent State of Sales Coaching report indicates there is more preaching than teaching occurring in B2B sales environments.
COVID-19 has been a gamechanger in how and where we work. That is no less true for sales and marketing professionals as it is for most other workers.