Home
Setting the Stage for Growth
Setting the Stage for Growth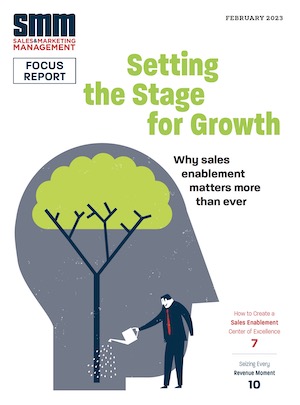 February 2023
View Downloadable Edition
The tech stack tools that helping power sales enablement efforts are only part of the solution. A thorough understanding of what sales enablement is and how to assess it in your company is vital.
If you think of sales enablement with a center of excellence approach, you can position it to have the same authority as a project management organization or other program vital to business.
Before chopping budgets and changing strategies, B2B decision-makers should first explore how their existing automation tools can forge new pathways to profitability amidst economic uncertainty.
In good economic times, it's important to be aware of every revenue opportunity. In uncertain times, it's mission critical. Sales enablement helps reps reach out with the right message at the right time.
Need proof of sales enablement's vital role in revenue generation? Here are some eye-opening statistics culled from various sources.