Home
The Ultimate Guide to Non-Cash Incentives 2023
The Ultimate Guide to Non-Cash Incentives 2023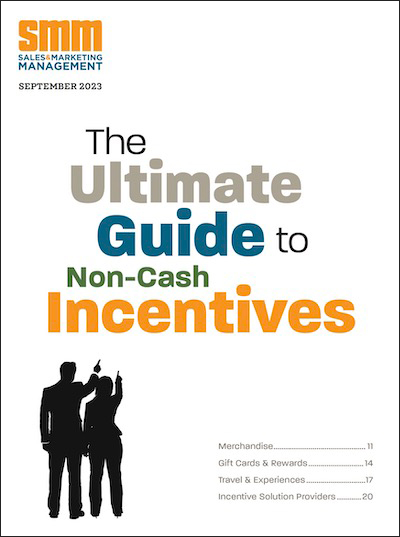 September 2023
View Downloadable Edition
A competitive and livable wage is the starting point for successful recruitment and retention, but that's all it is - a start.
Reward and recognition programs for sales and non-sales employees often have their budgets trimmed in down economies. That's exactly when they are needed most.
By embracing a balanced, data-driven approach that taps into intrinsic motivation, you're not just enhancing your sales initiatives, you're revolutionizing them.
Non-monetary rewards can deepen the connection employees feel with their company in a way that salaries or bonuses simply cannot.
More and more award recipients prefer experiences over stuff. These suppliers can provide memorable recognition.
Nine in 10 respondents say gift cards make an appropriate employee incentive or reward. Here's a look at why they are popular and some suppliers for your next motivational effort.
Gift cards are more popular than ever as a means to reward top performers. But why do so many corporate users continue to purchase in bulk at retail and pass up the benefits of using an incentive gift card supplier?
These companies offer turnkey incentive programs for recognizing top-performing employees, channel partners or other important business associates. Rewards can range from merchandise and gift cards to fully supported incentive travel programs.
These incentive merchandise suppliers can help companies boost performance and morale in ways that paychecks cannot.
Only 23% of employees strongly agree they get the right amount of recognition for the work they do. A closer look at employee sentiment about recognition.