There are 33.2 million small businesses in the US, which translates to 99.9% of US businesses. You can imagine the amount of competition there is for customers.
If you're building a small business, you need to leverage powerful digital marketing tools to launch a successful marketing strategy. But with a host of digital marketing tools out there, how do you choose the best one for your small business?
In this article, you're going to discover the top 5 online tools to streamline marketing efforts for your small business. Since most small businesses operate on a shoestring budget, most of these digital marketing tools allow you to try them for free and their prices are reasonable too. Let's get started.
1. Attrock Schema Markup Generator

In today's competitive SEO environment, it's easy for your small business to get lost on Google's SERPs, especially because you're competing against established businesses with mega budgets. This is where leveraging Schema Markup becomes helpful.
It helps search engines understand the content on your web pages. As a result, they display your business content as a rich result in the SERPs. But generating a perfect schema markup isn't an easy task.
That's where the schema markup generator by Attrock comes in handy.
It's free and easy to use. All you need to do is select your schema markup, type in your details in the intuitive form provided, and get your JSON-LD or RDFa code generated automatically.
The tool can create multiple schema types including product, person, article, review, organization, webpage, recipe and more.
The good news? You don't need any schema knowledge to generate perfect structured data. You just need to copy-paste the code directly to where you want it to appear on your website.
Price: Free
2. Flick AI Caption Generator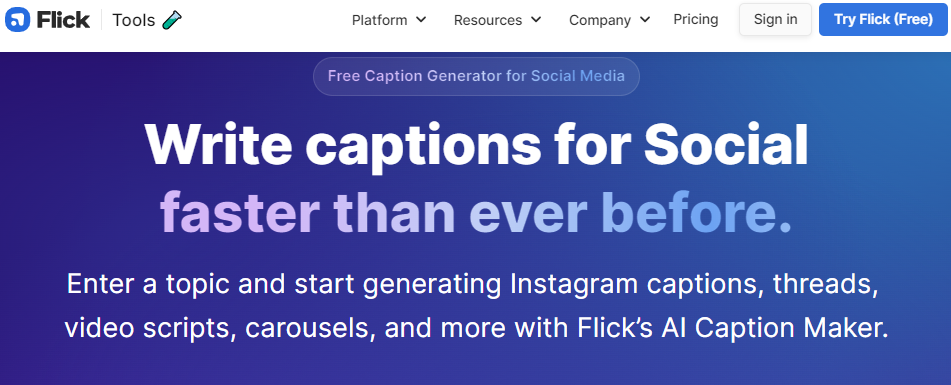 Often overlooked, social media captions can make or break your marketing efforts. Crafting good captions can help stand out from your competition and boost your social media presence. What's more, engaging social media captions can help increase the number of followers, likes, and views, and improve the overall success of your social media efforts.
But creating catchy and attention-grabbing captions that accurately convey the message or theme of your content can be a difficult task. Not anymore with the Flick AI caption generator.
This free caption generator for social media will come up with unique, irresistible, and on-brand captions 10X faster than your ordinary copywriter. Furthermore, you can use it to brainstorm a never-ending stream of exceptional and original content ideas so you won't run out of ideas at any given time.
And if you have long-form content, the tool will convert it into concise and engaging snippets for use across all major social media platforms.
Price: The tool offers multiple plans starting from $14 per user/month. All plans have a 7-day free trial.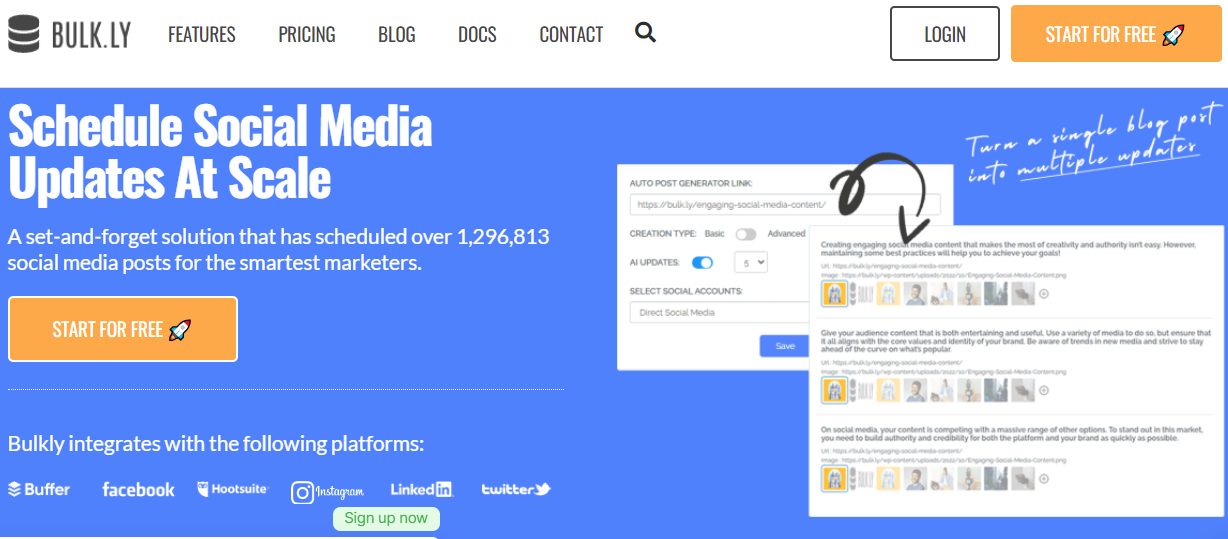 One of the most important aspects of digital marketing is posting your content when your audience is active on social media. This helps boost engagement and reach. Publishing posts at the wrong times can lead to a waste of resources and time since no one will engage with them.
Bulkly is one of the most powerful digital marketing tools built to simplify scheduling posts. With it, you can schedule a large number of social media posts in minutes—no more struggling to create social media status updates. Use the tool's bulk upload capabilities to come up with tons of status updates in multiple ways
This tool allows you to automate your status updates without appearing like a robot. Save time and keep your audience updated consistently by scheduling posts with Bulkly.
Price: Bulkly pricing starts from $19 per month (up to 1000 scheduled posts), but you can try it for free for 7 days.
4. SocialPilot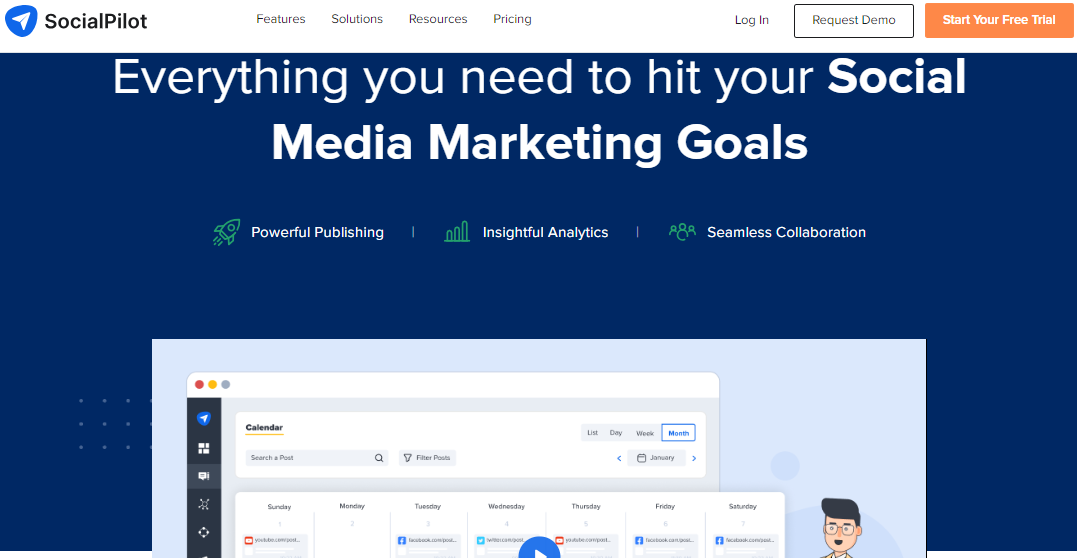 SocialPilot is a useful digital marketing tool developed to help you hit your social media marketing goals. With it, you can streamline your publishing, engagement, and collaboration activities.
Want to keep your audience updated on what's happening with your small business? In just a few clicks, SocialPilot lets you create and post engaging content across all major social channels.
You can also use the tool's analytics and reporting capabilities to gain valuable insights about your content across all platforms so you can make data-focused decisions.
With the social box on SocialPilot, you can stay engaged with your audience via messages and comments. Besides, you can humanize your engagement by using GIFs, images, and other attractive elements when replying to messages and comments.
Pricing: SocialPilot's pricing starts from $30 per user per month for up to 10 social media accounts. Each plan comes with a 14-day free trial.
5. ContentStudio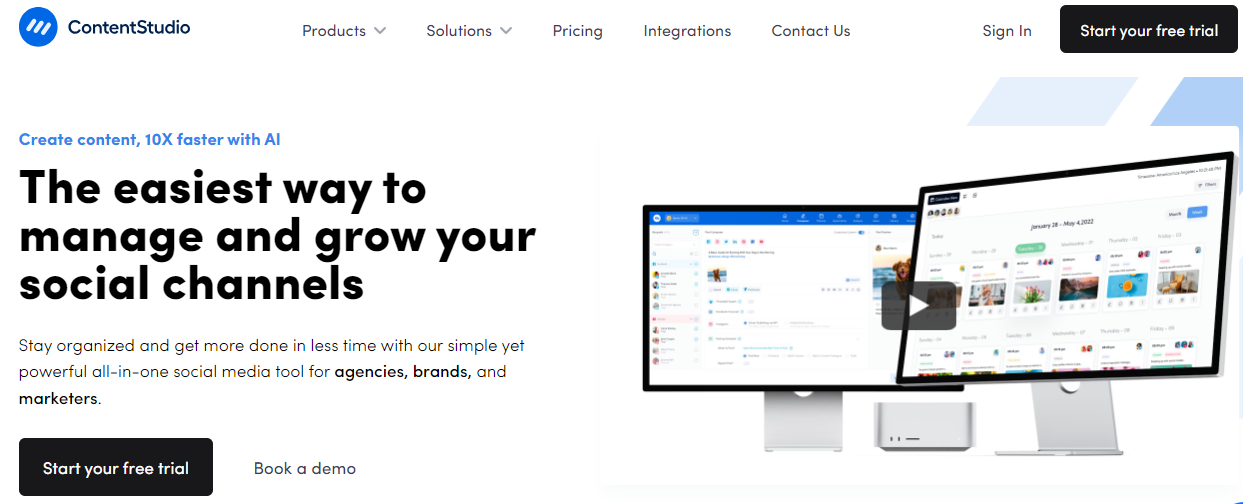 ContentStudio was developed for marketers, agencies, and growth-focused brands looking to stay on top of the latest updates related to their niches.
This unified social media management platform enables you to discover engaging content topics. With it, you can plan, create and schedule attractive posts across multiple social media platforms.
And while generating stunning captions and images can be a challenge for many marketers, this tool enables you to come up with catchy ones in minutes. Plus, you get suggestions for trending and relevant hashtags to increase your social media reach and visibility.
Finally, you can analyze the performance of your content across multiple channels effortlessly and make better business decisions.
Pricing: ContentStudio's pricing starts from $25/month. Each plan comes with a 14-day free trial.
Leveraging the right digital marketing tools can help you streamline your marketing campaigns and automate a ton of tedious tasks to save more time.
Using a combination of these tools can help you launch a solid digital marketing strategy and boost your small business growth.
Get our newsletter and digital focus reports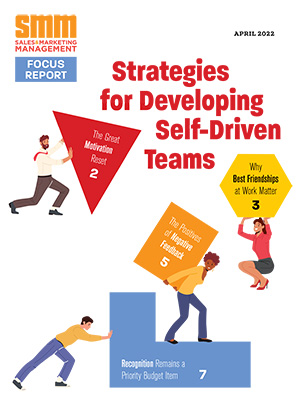 Stay current on learning and development trends, best practices, research, new products and technologies, case studies and much more.