Prepare to Launch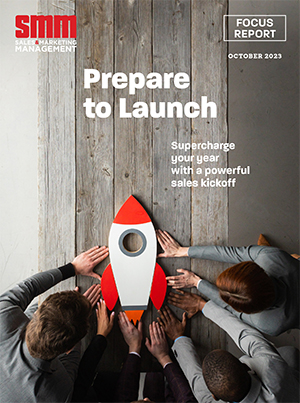 October 2023
View Downloadable Edition
The most effective sales kickoffs propel a strong start and set the tone for a successful year. A closer look at the key elements of SKOs and why virtual meetups should be a last resort.
Four minutes' worth of important insights on creating impactful sales kickoffs.
When it comes to choosing the skills that are most important to develop and improve at an SKO and throughout the year, who better to listen to than your customers?
Daniela Ortiz, Global Chief Marketing Officer at Hy Cite, explores the key elements of a strategic sales plan and why it's essential to direct sales.
Here's what we heard from several people who plan their own sales kickoffs on what aspects they feel are most important.
Taken from "The Complete Guide to Sales Kickoffs" published by Brightspot, this list of benefits can help you assess your own SKO efforts and plan for the future.
Jim Rich, Area General Manager North America for Board International, shares strategies that can help your organization improve territory planning and empower your salespeople with a fair shot at success.