Tech Check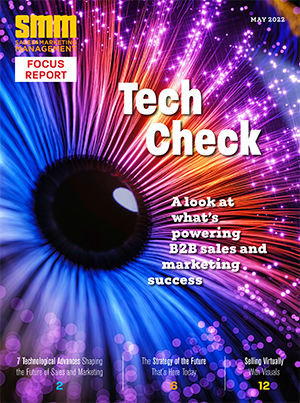 May 2022
View Downloadable Edition
Identifying the most promising technological trends for marketing isn't always easy. Here are seven technological advancements that increasingly impact how businesses go to market.
As B2B customers keep raising their expectations for custom-tailored interactions with brands and vendors, it's time for sales teams to develop experiential customer acquisition programs that increase engagement and conversion.
Better conversations are vital to success in a complex B2B sales process. AI-powered conversation analysis software that provides detailed metrics is leading to improved conversations.
As sales channels evolve from physical marketplaces to the digital sphere, the production process for product visuals must also make the leap. Digitization addresses the need to personalize visual content through creativity.
Sales enablement technology has evolved over the years to help sales reps make connections with every person involved in the customer journey. What began as a technology to help sellers meet their quotas and engage buyers is now a diverse industry dedicated to fostering a thoroughly human experience.
Sprockets' sophisticated software evaluates potential hires based on the traits of a company's best employees to determine the right candidate in just a few minutes.