Home
Everything Everywhere All at Once
Everything Everywhere All at Once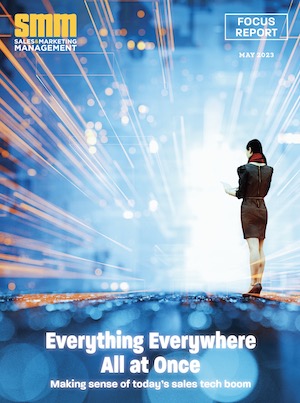 May 2023
View Downloadable Edition
The tools in each sales team's tech stack can make the difference between blowing past competitors or falling short of quota — again!
The foremost priority regarding how next-generation sales and marketing teams work is to facilitate a digitally augmented frictionless customer's experience at the center of every decision.
Shavon Jones aims to turn lawyers into rainmakers by teaching them about sales and technology, two things that many of them are decidedly disinterested in.
Are sales managers relying too heavily on tech tools at the expense of developing their leadership skills? It's important to remember that sales managers lead people.
Many companies focus too much on getting the "right" tech stack and ignore the overarching goals that technology is supposed to enable. Here are three sales areas that technology can impact on improving the rate and effectiveness of a seller's conversation with their prospects.
Seven key technological disruptions that sales leaders need to prepare for in the next five years.
Automated demos are key for companies navigating today's challenging labor market and tighter budgets.