Home
Your Future in the New Reality of the Next Thirty Years
Your Future in the New Reality of the Next Thirty Years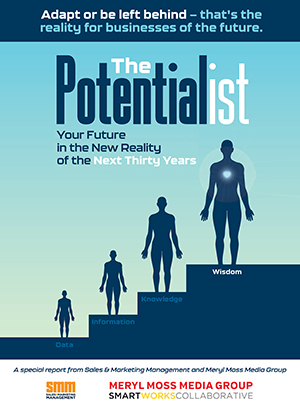 November 2022
View Downloadable Edition
Entrepreneur and futurist Ben Lytle says transformational disruptions to how we work -- and how we manage workers -- are coming. For proactive managers, it's an opportunity to assemble highly successful teams.
Learn more about (and register for) Ben Lytle's free webinar on "How to Future-Proof Your Sales & Marketing Strategy."
Seven new-world realities that managers must be conscious of to thrive in the changing workplace.
Six characteristics that will help determine whether any organization will prosper in the ultracompetitive customer experience landscape.
B2B salespeople are increasingly important as "journey orchestrators" who customize the buyer experience in ways that develop deeper relationships and greater customer loyalty.
B2B suppliers of the future will have to employ an omnichannel approach in order to maintain their relationships with customers.
Technology is changing not only the jobs being conducted and the training necessary for those jobs, but the manner in which we collaborate across teams.
More workers in the coming years are bound to choose entrepreneurial careers over traditional employment. Here's what that entrepreneurial mindset will mean for employers.
Brand impressions open or close doors, and sales reps will have an increased impact on what type of impression is made.
Younger workers are more concerned about getting sufficient training from their employer.